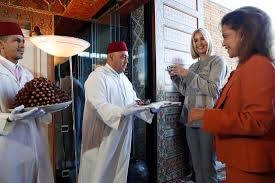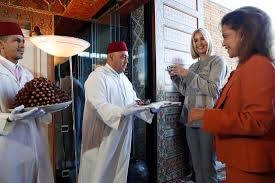 White House adviser Ivanka Trump has arrived in Morocco on Wednesday to promote women's economic empowerment.
Ivanka who is also President Donald Trump's daughter was welcomed by Princess Lalla Meryem.
The white House adviser is visiting Morocco to promote the US government's Women's Global Development and Prosperity Initiative, which she spearheads.
The Women's Global Development and Prosperity Initiative (W-GDP) was launched in February with an initial investment of $50 million from the USAID.
Its goal is to reach 50 million women in the developing world by 2025 through U.S. government activities, private-public partnerships, and a new "incentive" fund that promotes those partnerships with businesses and NGOs.
USAID Administrator Mark Green noted that "investing in women builds countries that are resilient and self-reliant."
Ivanka's trip to Morocco comes after the North African Kingdom updated land rights laws that critics say shortchanged women.
On Thursday, Ivanka Trump arranged to visit an olive grove on the outskirts of the capital that is a Millennium Challenge Corp. project.