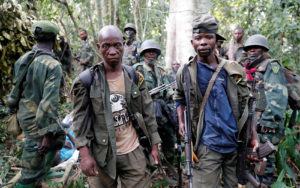 The United Nations said killings, rapes and other barbaric violence committed by an ethnic armed group in northeastern Democratic Republic of Congo against a rival group may amount to crimes against humanity and possibly even genocide.
"The widespread nature of the organization, the systematic nature, is certainly characteristic of crimes against humanity," UN human rights spokesman Rupert Colville told the media over the weekend.
"The burden of proof of genocide, the intent to destroy a whole part of a population, is far more difficult to prove."
The FARDC army and police have failed to stop the violence and have themselves carried out executions, rapes and arbitrary arrests, the UN human rights office said in a report. Congolese authorities must deploy more security forces and investigate abuses, it added.
At least 701 people have been killed and 168 injured during inter-ethnic violence between the Hema and Lendu communities in Djugu and Mahagi territories from December 2017 to September 2019, the report said. At least 142 people have suffered acts of sexual violence, it added.
Schools and health clinics have been attacked and destroyed. The report said that most attacks occurred in June around the harvest period, and in December during the sowing season. "This makes it more difficult for the Hema to cultivate their fields and exacerbates their lack of food."
Nearly 57,000 Congolese have fled to Uganda while more than half a million have been displaced internally.