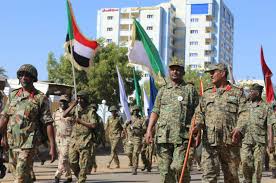 The shooting that broke out on Tuesday January 14 in Sudan's capital Khartoum and the city's airport in a rebellion by an intelligence department was countered by the army.
The Sudanese army stormed a number of intelligence sites to end the rebellion. Two soldiers died and four were injured in the clashes.
According to a government's statement, the violence was sparked by a row over severance pay. The rebellious troops belong to an intelligence agency that is being disbanded.
In a speech on Wednesday, Head of the sovereign council, Lieutenant General Abdel Fattah al-Burhan, declared that the violence was now over.
"All headquarters are under the army's control, and the airspace is now open," he said.
Sudanese Prime Minister Abdullah Hamdouk has praised action by the army to counter the rebellion.
Hamdouk, in statements today, said he trusted the ability of the army to maintain national security.
A senior member of the ruling Sovereign Council, Gen Mohammed Hamdan Dagalo, known as Hemeti, accused former intelligence Chief Salah Gosh of orchestrating the rebellion. He said that while he did not consider the incident a coup attempt, such action would not be tolerated.