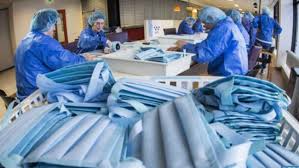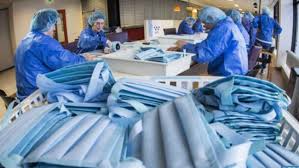 Morocco, which produces 10 million non-woven masks per day in 23 factories, has decided to export its surplus of this most coveted commodity in the world battling covid-19 pandemic.
The announcement was made Monday by the minister of Industry and Trade Moulay Hafid Elalamy at the Parliament. He said that the decision was taken after reaching self-sufficiency and securing a stock of 50 million facemasks.
Furthermore, several countries have expressed interest in importing the certified Moroccan masks that met international health safety requirements, underlined the minister.
However, the exports of facemasks could be halted if the supply of the local market is affected after lifting the coronavirus lockdown, warned Mr. Elalamy.
Morocco also produces over 2 million reusable cloth masks per day, he added, noting that these types of masks are not currently exported, as they are needed in the country.
The export of these masks will be phased out after building up the strategic stockpile, explained the minister, affirming that Morocco has also decided to export medical equipment including ventilators (used for critically-ill covid-19 patients) after reaching its self-sufficiency.
To ensure the respect of health safety requirements in workplaces, delegations comprising representatives from the ministries of Industry, the Interior, Public Health and Employment, visited 1,590 factories to see whether the employers supply workers with facemasks, disinfectants and sufficient ventilation.
The factories failing to abide by the health and safety regulations will be shut down, warned Mr. Elalamy.