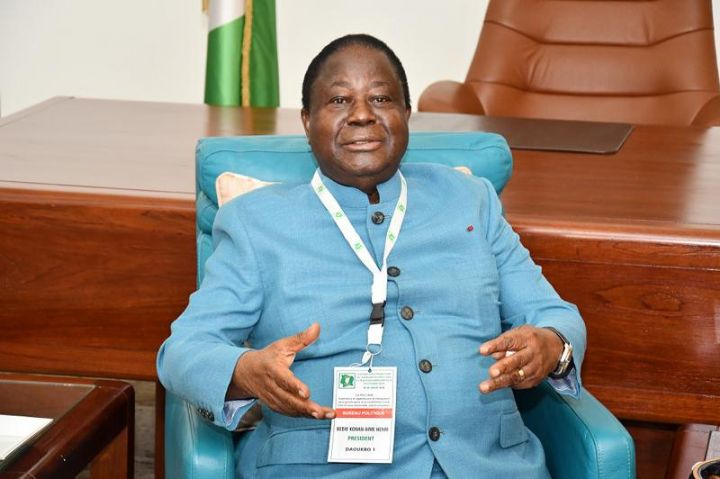 Henri Konan Bédié has been elected PDCI candidate in the presidential election of October. The former Ivorian head of state was acclaimed with nearly 100% of the votes cast at the fragmented conventions of his party held this weekend. This score comes as no surprise as the opponent was the only candidate in the running. A result that Kouadio Konan Bertin, his potential challenger whose candidacy had been rejected, regrets and denounces absence for democracy within the party.
He made a point of announcing his victory himself in the garden of his Cocody residence. Henri Konan Bédié received 99.7% of the votes cast for a participation rate of 94.08%. "Dear sisters and brothers, the joy that animates me this day is immense. I would like to offer you my warm and sincere congratulations for your constant determination in the political action carried out on the ground. »
For his part, Kouadio Konan Bertin notes a failure of democracy in these conventions, which, according to him, were only programmed to designate the 86-year-old former head of state. "KKB", as he is known, had seen his candidacy rejected, making Daoukro's Sphinx the only competitor.
With the possible candidacy of outgoing president Alassane Ouattara, Kouadio Konan Bertin fears that the old demons will reappear in the country: Ivorians don't want a remake of a horror film they've already been served. The actors are always present and that's what worries the people of Côte d'Ivoire. We haven't even finished settling the disputes from the old crisis and we're still gathering the ingredients for a fresh start! It's like ten years for nothing, we haven't moved at all, we're still at square one»!
The final results of these conventions will be known tomorrow Wednesday. The official inauguration ceremony of Henri Konan Bédié is scheduled for September.