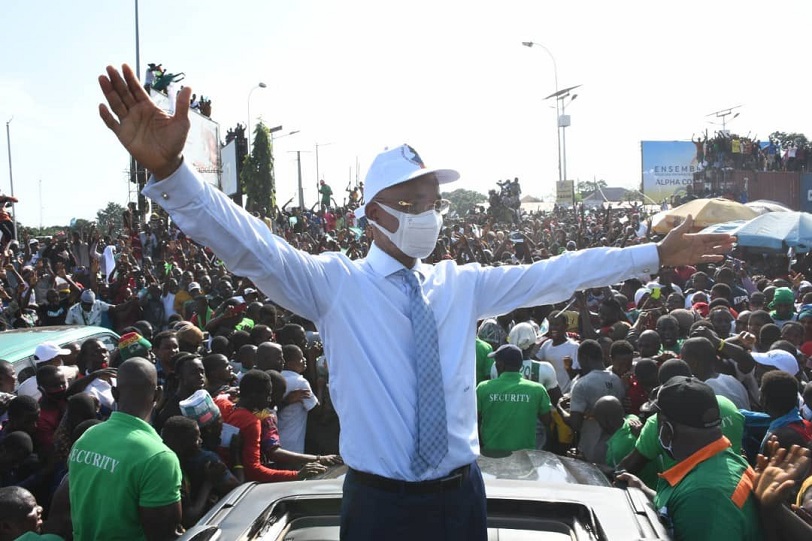 Guinean President Alpha Condé, candidate for re-election, began a surprise tour of the interior of the country on Sunday, October 11, while the procession of opposition leader Cellou Dalein Diallo, who was due to hold a meeting in Kankan, was blocked against a backdrop of violence.
The election campaign is accelerating in Guinea, one week before the October 18 presidential election. And to start his tour, Alpha Conde has opted for Forest Guinea. A tour on the run, with two meetings this Sunday, one in Nzérékoré, the second in Lola. A surprise tour as well. Because until now, coronavirus pandemic obliges, the head of state held a meeting by video-conference from Conakry.
The method has changed, but not the speech. As often, Alpha Conde has mainly addressed women and youth. In front of a large crowd, which for the most part did not wear masks, the president was keen to emphasize: "We must take the disease seriously.
The atmosphere was quite different in Kankan, the traditional stronghold of the ruling party. The opponent Cellou Dallein Diallo, who had planned to hold a meeting there on Sunday, had to give up. According to his party, his procession was blocked on the road about 100 kilometers from the city by minibuses filled with supporters of President Alpa Conde, but also tree trunks. He finally decided to turn back.
For the main opposition party, the UFDG, there is no doubt that President Condé is responsible for the incident that deprived its leader Cellou Dallein Diallo of a walkabout in Kankan. According to the campaign manager of the UFDG candidate, "scared by the wave of sympathy for Cellou Dallein Diallo and the many supporters of his candidacy, Alpha Condé decided to prevent any activity by the UFDG in Kankan.
In response, the majority's campaign board explained in a statement that it "regrets the establishment of barriers by young men emptying to prevent the UFDG candidate's motorcade from reaching the city of Kanka" but at the same time recalled that these incidents come after those of last week in Labé and Dalaba, strongholds of Cellou Dallein Diallo. These incidents were described by the opposition as "manipulations of power.
According to witnesses in Kankan on Sunday, incidents broke out between rival UFDG and RPG militants causing numerous injuries while dozens of stores belonging to supporters of the opposition were looted. Guinean Security Minister Albert Damatang Camara denied any involvement of the security forces in these events.