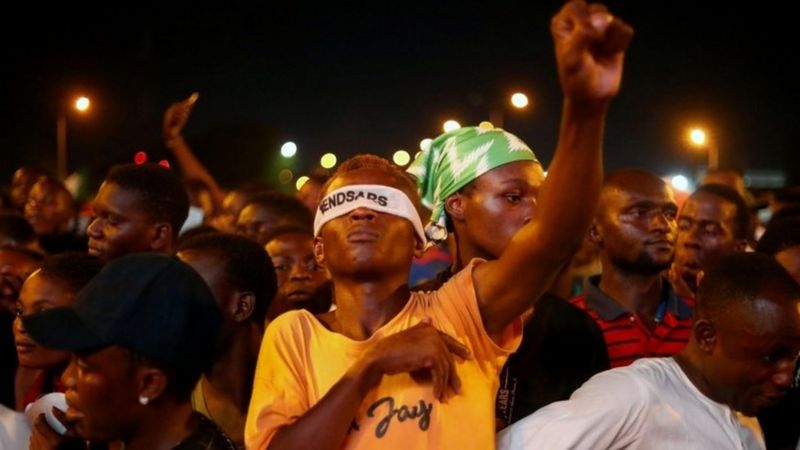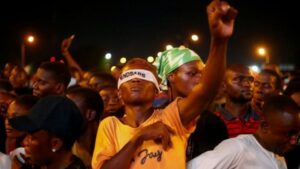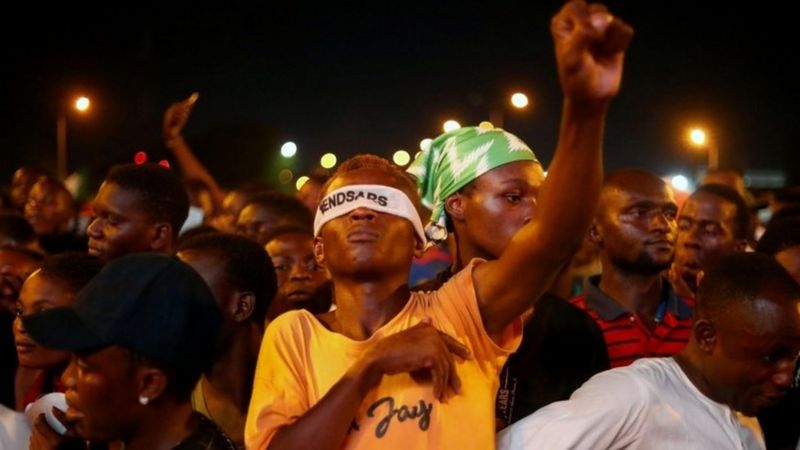 After violent outbursts on the bangs of the protests against police brutality and for good governance, which have been going on for more than 10 days, the authorities declared a curfew in Lagos. Demonstrators who chose to defy the curfew were brutally dispersed by police in the evening. The NGO Amnesty reported several deaths.
A Nigerian flag stained with blood is the image that will remain at the end of this day Tuesday, marked by the intervention of security forces in Lagos. The Nigerian youth movement, however, wanted to be resolutely peaceful, it finally fell into chaos.
Since Monday, October 19, these hitherto peaceful gatherings have led to an impressive escalation of violence. Gangs of young thugs have destroyed vehicles and injured and even killed demonstrators in several cities across the country. On Monday, they broke into a prison in the state of Edo. Several police stations were also attacked and vandalized in Lagos, Ibadan, and Benin City. Inter-community clashes also erupted in Abuja, but many protesters and observers claim that the youth are being paid by the authorities to cause unrest and justify the intervention of security forces.
In the face of this violence, the Nigerian authorities took a series of measures on Tuesday to restore calm in the country. A curfew of 24 hours was decreed in particular in the megalopolis of Lagos, which has 20 million inhabitants. On Twitter, the governor of the state Babajide Sanwo-Olu evokes a "difficult" but inevitable decision. According to him, the peaceful demonstrations have turned "into a monster that threatens social cohesion," he said. The states of Edo and Etiki have also decreed a curfew.
On Tuesday evening, the Inspector General of the Nigerian Police announced a nationwide deployment of riot police. The army, already present on the streets of the capital Abuja since Monday, is also to be deployed throughout the country and has made its appearance in Lagos.
Despite these announcements, the demonstrators continued to sit in on the main tollgate of the economic capital. But as night fell, they were brutally dispersed by heavy fire from the security forces, who intervened on the spot two hours before the start of the curfew, officially set at 9 p.m.
Faced with this situation, the authorities remain silent. No comment from the presidency side for more than a week. Silence also on the side of the police. The president of the National Assembly, Femi Gbajabiamila, spoke to the deputies on Tuesday. He affirmed that he will not sign the 2021 state budget if it does not include adequate provisions to compensate those who have suffered from the violence and brutality of the police during the last 10 years.