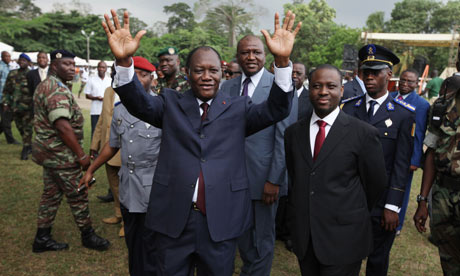 This Monday was held the inauguration ceremony at the presidential palace in Abidjan. Alassane Ouattara was sworn in for a third term at the head of the country.
The ceremony ended in the early afternoon. The guests then began to leave the presidential palace. Guests included a dozen heads of state of the region such as the Nigerian Mahamadou Issoufou, the Togolese Faure Gnassingbé, the Ghanaian Nana Akufo-Addo or the Burkinabè Roch Marc Christian Kaboré. Heads of State for whom Alassane Ouattara had a word.
France was represented by its Minister of Foreign Affairs, Jean-Yves Le Drian. Former President Nicolas Sarkozy was also present.
Alassane Ouattara was sworn in on the Constitution, then it was the President of the Constitutional Council, Mamadou Koné, who took the floor and gave a long speech, returning to this famous debate on the legality or illegality of the candidacy of Alassane Ouattara for a new term. He deplored that "this debate has moreover left its natural domain, namely the law, to become a political debate and that everyone has gone to its interpretation. When the Constitutional Council declares that a candidate is eligible, he is eligible. And when the Constitutional Council declares that a candidate is elected, he is elected," Mamadou Koné concluded.
Alassane Ouattara then received the Grand Collar of the Order from the Grand Chancellor Henriette Diabaté. He then took the floor and thanked the Heads of State for their presence, as well as the other guests, and thanked the voters as well. Then Alassane Ouattara returned to the ballot of October 31 which "gave rise to violence and intolerable acts constituting criminal offences. These serious acts must not go unpunished.
Then he announced the creation in the coming days of a Ministry of National Reconciliation. "This ministerial department will have the mission to evaluate our actions with the aim of strengthening national cohesion and reconciliation of the daughters and sons of our beloved Côte d'Ivoire," the Head of State said.
The Ivorian president also urged his Prime Minister, Hamed Bakayoko, to resume discussions with political parties in view of the holding of legislative elections by the end of the first quarter: "I invite all political parties to seize this opportunity," said Alassane Ouattara.