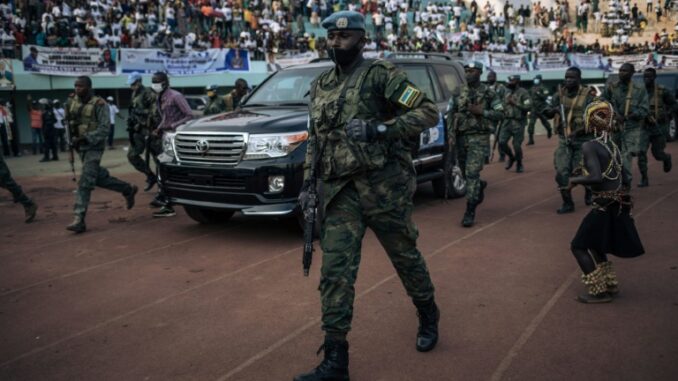 The climate is still as precarious in the Central African Republic ahead of the presidential and legislative elections on Sunday 27 December. While yesterday was calm in Bangui, several clashes were reported in the interior of the country, and the capital is strengthening its security arrangements.
"Volatile and unpredictable," says one security source. No clashes this Sunday in Bossembele where Portuguese special forces of Minusca are deployed. "There are attempts of incursions, but the situation is less tense," said the spokesman of the mission, Vladimir Monteiro. Overall on the country's main road, the situation is calmer, the armed groups are less visible in the localities, but remain present. Security sources do not rule out the possibility that they will move away from the main roads to continue their progress through the bush.
On the other hand, clashes have taken place in Mbaïki, around 100 km south of Bangui. An unusual presence of men-at-arms is also reported in Baboua, in the north-west very close to the Cameroonian border. Several authorities fear that they may cut off the supply route to the capital in a strategy of remote blockade. "On both sides each consolidates its positions," reports a military source. On the government side, reinforcements still arrived from Russia this Sunday: several planes with men and equipment on board. Rwanda has also sent troops, currently being deployed. Kigali says it is acting under a bilateral agreement with the Central African Republic.
The Central African Republic's international partners in the G5+ call on "François Bozizé" and the armed groups engaged in the current offensive in the country to "lay down their arms". It was Sunday evening in a joint communiqué signed by France, Russia, the United States, the European Union, the African Union, Ceeac, the UN and the World Bank.
This is the first time that François Bozizé has been explicitly accused by the Central African Republic's partners of being responsible for the current offensive, as well as "allied armed groups" whose names are not mentioned. The signatories of the communiqué condemn "their actions" and call on them to "immediately lay down their arms", they evoke "manoeuvres" aimed at "committing the country to a new political transition", a scenario they reject. The elections "must be held on 27 December," write the signatories while Sunday the opposition coalition to which François Bozizé belongs has demanded their "postponement" given the insecurity and the opening of consultations.
A message of firmness therefore accompanied by a warning: the "individual responsibility" of the perpetrators of offensives underway in the country "is committed," recall the signatories of the statement.
It must be said that the international community has invested massively in the electoral process, especially financially. Seeing the Central African Republic sink into a major crisis one week before the deadline would be a major step backwards.