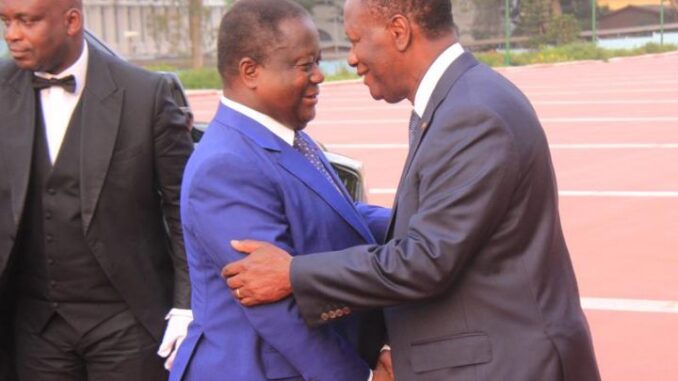 The political dialogue between the government and the opposition opened on Monday morning, December 21. Hamed Bakayoko, the Prime Minister, received the various parties to calm spirits after the disputed re-election of President Alassane Ouatarra on 31 October 2020.
The participants have just concluded this first phase of the political dialogue. This first contact lasted a little over an hour and brought together the main currents of the Ivorian political opposition, namely the PDCI [Democratic Party of Côte d'Ivoire] of Henri Konan Bédié, the FPI [Ivorian Popular Front] of Pascal Affi N'Guessan and the EDS platform, close to former President Laurent Gbagbo. All were gathered around Prime Minister Hamed Bakayoko.
On their exit, both government and opposition sides said they were satisfied with this first exchange, which is a step towards political appeasement, after the re-election of President Alassane Ouattara to a third term on 31 October last, denounced by his opponents. This same political crisis has led to the arrest of several opposition figures. This is the case of Pascal Affi N'Guessan, still detained, and Maurice Kakou Guikahué, number two of the PDCI, currently hospitalized in Paris following heart complications during his detention.
For this first day, Prime Minister Hamed Bakayoko gave an introductory speech to thank them for their spirit of openness: "The government will do everything to move things forward. I am counting on you to be open-minded as well. If we go from one precondition to another to prevent things from moving forward, we are not making progress.''
The main objective of this dialogue is firstly to prepare the legislative elections scheduled for the first quarter of 2021 with the still burning issue of the Independent Electoral Commission, which the opponents still define as subject to power. This is, moreover, the point that has been discussed today, even if neither party gives details of the exchanges. The executive director of the RHDP, the ruling party, Adama Bictogo, says that all the commissions necessary for the continuation of the dialogue will be installed by the end of the year.
But beyond this electoral deadline, other issues are being discussed, presented as urgent for the opposition, namely the release of its activists and political cadres, as a precondition for any dialogue.
A first contact has therefore just been made in the presence of all the opponents. It remains to be seen in what direction these debates will evolve in the coming days.