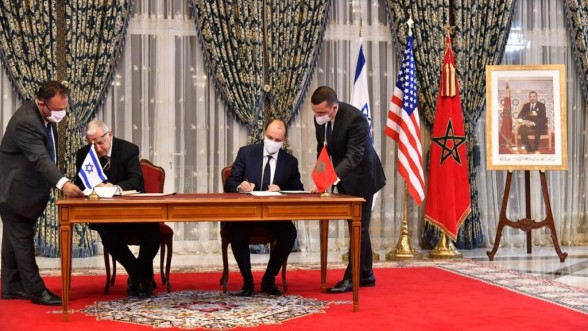 The Kingdom of Morocco and the State of Israel signed, on Tuesday in Rabat, four agreements in several areas during the visit of the high-level American-Israeli delegation.
They are: an agreement on the exemption from visa formalities for holders of diplomatic and service passports, signed by the Minister Delegate for Foreign Affairs, African Cooperation and Moroccans Abroad Mohcine Jazouli and Shlomo Mor-Yosef, Director General of the Population and Immigration Agency.Tourism
A memorandum of understanding in the field of Civil Aviation was signed by Zakaria Belghazi, Director General of Civil Aviation at the Minister of , Handicrafts, Air Transport and Social Economy and Joel Feldschuh, Director of the Civil Aviation Agency.
Recognizing the importance of ensuring direct flights between Israel and Morocco, the two sides pledge to engage in talks for the conclusion of an Agreement on Air Services.
In addition, a memorandum of understanding on Innovation and the development of water resources which provides for technical cooperation in water management and development, was signed by Hammou Bensaadout, Director General of 'Water at the Minister of Equipment, Transport, Logistics and Water and Yechezkel Lifshitz, Director General of the Ministry of Water Resources.
As for the memorandum of understanding on cooperation in the field of Finance and Investment, signed by Nabyl Lakhdar, Director General of the Administration of Customs and Indirect Taxes under the Ministry of Economy, Finance and Administration Reform and Shira Greenberg, Chief Economist at the Ministry of Finance, it announced the promotion of economic relations between the two countries through trade and investment.
This MoU provides for the negotiation of other agreements to govern these relations: "Double taxation agreement, Agreement on the Promotion and Protection of Investments and Agreement on customs assistance".