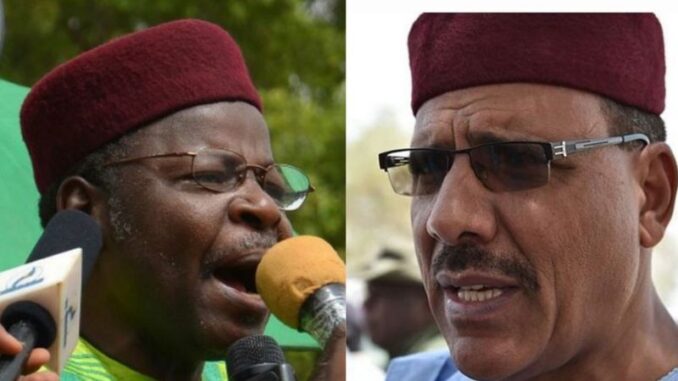 Mohamed Bazoum, the candidate of the ruling party, and Mahamane Ousmane, former president, topped the results of the first round of the presidential election, published by the Electoral Commission on Saturday, January 2.
Crossed portrait of two political figures from Niger, from the same region but with different backgrounds.
Ten years separate the two challengers: the oldest, Mahamane Ousmane, is 70 years old. Mohamed Bazoum is 60 years old. Both are from the same region of Zinder, in the east of the country. For the first time in Niger's political history: two sons of the soil, one an economist, the other a philosopher, for a presidential chair.
The first democratically elected president in 1993, Mahamane Ousmane is an old figure in Niger's politics. He maintains an important electoral base in his home town of Zinder. Weakened politically by cohabitation, he was overthrown in 1999 by Colonel Ibrahim Baré Maïnassara.
A kingmaker, his political support enabled Mamadou Tandja to win the 1999 election. This is the sixth time Mahamane Ousmane has participated in presidential elections.
For his part, Mohamed Bazoum is the closest collaborator of President Mahamadou Issoufou for about thirty years. He was involved in all the major decisions of the PNDS, which they created in 1991.
With some twenty years of life as an opponent, Mohamed Bazoum has been a member of parliament five times and minister several times. According to his entourage, he built his career methodically. His various ministerial posts have allowed him to have control over the administration and to build up a solid network abroad. Today he is a key figure of the Issoufou decade, his mentor and mentor of the decade.