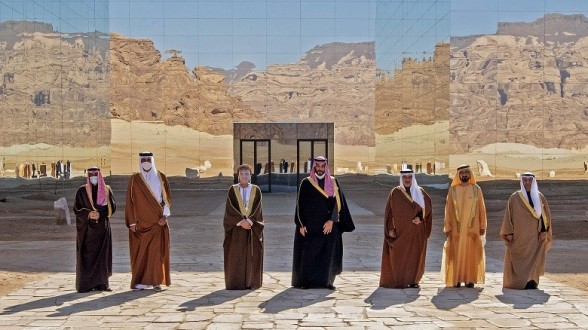 The leaders of the Gulf Cooperation Council (GCC), who held a landmark summit in the Saudi city of Al Ula, Tuesday, have stressed the importance of the "special strategic partnership between the Council of Cooperation and the Kingdom of Morocco."
The Gulf leaders also called for intensifying efforts to implement joint actions plans agreed upon within the framework of the strategic partnership between the two parties, according to the Final Declaration of the 41st GCC summit meeting, which marked the beginning of reconciliation between the GCC countries and Qatar.
On recent developments in the Sahara conflict, Gulf leaders reiterated their support for Morocco's territorial integrity. They notably commended Rabat's peaceful actions to lift the blockade in Guerguarat, near the Moroccan-Mauritanian border.
Following Morocco's intervention on November 13, 2020 to lift a three-week blockade by Polisario elements and restore traffic in the area, several Gulf countries issued statements to congratulate Morocco for its move to restore peace and stability in the region.
Saudi Arabia, UAE, Kuwait, Bahrain, Qatar, and Oman were among the countries that expressed support for Morocco's territorial integrity, condemned the Polisario's maneuvers, and hailed the positive results of Morocco's action which allowed to reopen the crossing point between Morocco and Mauritania and restore the safe movement of people and goods. They also expressed support for Morocco's measures to defend the security of its territories and citizens.
The Al-Ula summit sounded the end of the blockade that the Saudi-led coalition, which included the UAE, Egypt, and Bahrain, imposed on Qatar in June 2017.
In the Final Declaration, the GCC leaders vowed to continue the march of unity and cooperation in order to achieve common interests to serve their peoples and consolidate security and stability in the region.
In this vein, Morocco voiced satisfaction over the positive development of Saudi-Qatari relations, and the signing of the Al-Ula Declaration.
The Ministry of Foreign Affairs said in a statement that, given the strong ties and sincere affection uniting King Mohammed VI and his brothers, the leaders of the countries of the Arab Gulf, Morocco expresses the hope that these developments augur well for the reunification of the Gulf countries, the fostering of mutual trust as well as for overcoming the crisis in order to consolidate the unity within the Gulf family.
Morocco commends the efforts undertaken by the brotherly State of Kuwait as well as the constructive role of the United States in this regard, the statement added.