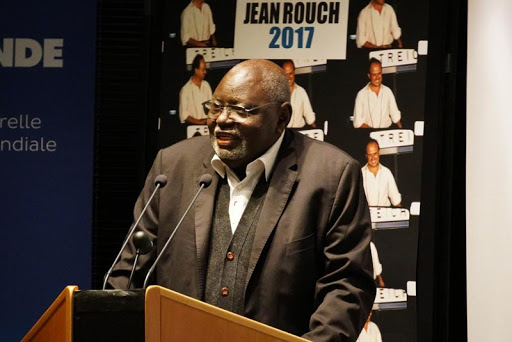 Inoussa Ousseini, filmmaker, sociologist, former minister and Niger's ambassador to UNESCO, died in Paris on Tuesday 5 January at the age of 72. A pioneer of documentary film in Africa, he was also one of the founding members of the Jean Rouch Foundation.
He had been one of Jean Rouch's travelling companions. It was at the Niamey film club that Inoussa Ousseïni, then a 15-year-old high school student, had met the ethnologist filmmaker. The latter took him under his wing. Arriving in France in 1968, the young aspiring director passed his baccalaureate and then enrolled at the Faculty of Letters in Tours while taking classes with his mentor at the Cinémathèque de Paris.
Thanks to him, he will meet all the fine flower of French ethnology and sociology, in particular the researcher Robert Jaulin, who advises him to study Europeans, by doing ethnology on the French.
Inoussa Ousseini thus directed La Sangsue, a film about the sexuality of the French, then Paris c'est joli, about the experiences of an African who entered France illegally. The film won the Critics' Prize at the Pan-African Film Festival of Ouagadougou (Fespaco) in 1976.
Back in Niger, he was entrusted with the management of the audiovisual department of the CNRS in Niamey, created by Jean Rouch. At the same time, he accompanies the filmmaker in his missions in the interior of the country and continues to shoot his own films: Ganga, Fantasia and traditional popular festivals in Niger.
In 2004, Ousseini was appointed Niger's ambassador to UNESCO. He founded the African Documentary Film Forum in Niamey, which was held for the first time in December 2006.