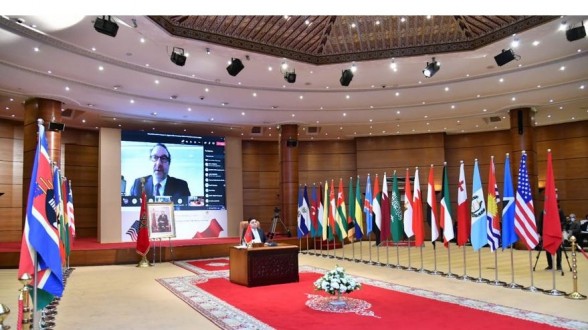 Participants in a Ministerial Conference on the Morocco-proposed Autonomy Initiative, held virtually on Friday, expressed strong support for this initiative as the only basis for a just and lasting solution to the Sahara regional dispute.
Participants in this conference from some forty countries, including 27 ministers, have and committed to continue their advocacy for a solution, using Morocco's autonomy plan as the sole framework for resolving the Sahara dispute.
The Conference, held at the invitation of Morocco and the United States, was co-chaired by Moroccan Foreign Minister Nasser Bourita and US Assistant Secretary of State for Near Eastern Affairs David Schenker.
According to a Chairs summary made public at the end of the Conference, participants welcomed the development endeavors launched in the region including in the framework of Morocco's "New Development Model for the Southern Provinces."
Most participants recalled the Proclamation of the United States of America of December 10, 2020, entitled "Recognizing the Sovereignty of the Kingdom of Morocco over Western Sahara," which reaffirmed support for Morocco's serious, credible, and realistic autonomy proposal as the only basis for a just and lasting solution to the dispute.
Schenker said in his opening remarks that the US recognition of
"Moroccan sovereignty over Western Sahara makes clear our view that Morocco's autonomy proposal is the only basis for a just and lasting solution to the conflict."
He called on the international community to back the autonomy plan as "the only credible and realistic basis for negotiations."
"After nearly three decades of the status quo failing to produce a breakthrough, let us seize this moment to reinvigorate negotiations within the framework of Morocco's autonomy plan," he said.
The participants in the conference also underlined that the US Presidential Proclamation provides guidance for efforts to advance the UN-exclusive political process aiming at reaching a lasting political solution, with the autonomy initiative as the only realistic basis for such a solution. This Proclamation will strengthen the international consensus in support of the UN-exclusive political process.
The Conference highlighted the decision of twenty United Nations Member States to open Consulates in the Moroccan cities of Laayoune and Dakhla, considering that such steps will promote economic and business opportunities for the region, strengthen the vocation of the Sahara region as an economic hub for the entire continent and advance progress towards reaching a long-awaited final political solution to this dispute, which has been going on for several decades.