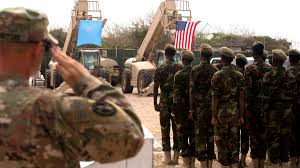 Africom, the US military commander in Africa, confirmed that American troops have left Somalia, pursuant to presidential directive.
Washington had about 700 troops permanently stationed in the country, but President Donald Trump had ordered their withdrawal in mid-December.
The American soldiers withdrew even two days ahead of schedule. AFRICOM confirmed that there was still a very limited presence in Somalia, but almost all the troops have been reassigned to other locations.
The US command has refused to say which ones, but the only two permanent US bases in Africa come to mind.
First Camp Simba, in south-eastern Kenya. A year ago, this site, which is dedicated to counter-terrorism and the training of Kenyan soldiers, had suffered an unprecedented attack by Somali Islamists. The terrorists then killed three Americans. General Townsend, commander of Africom, was on the spot Saturday. The site has undergone major security improvements since last year.
Others were probably sent to Camp Lemonnier, the American base in Djibouti. At the same time, Washington has promised to continue the fight against shebabs. The intensity of drone strikes remains very high. Last week, one of them killed an Islamist.
On Sunday, terrorists attacked a Somali army convoy escorting a governor and officers 50 km from Mogadishu. Many experts have criticized the American withdrawal from Somalia. Especially since it came at a bad time. Political tensions are high with less than a month to go before the elections, and the terrorist group could take advantage of the vacuum left by Washington.