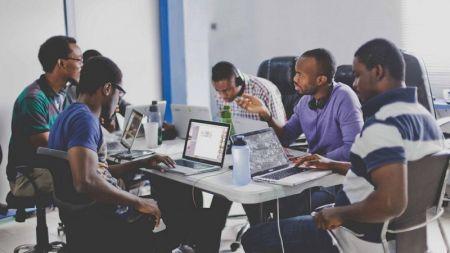 Against the backdrop of a year 2020 that saw foreign direct investment fall worldwide, and 18% decline in Africa, the African tech sector is celebrating. African start-ups received $701.5 million in financing, up nearly 43% from 2019. This is what emerges from the data compiled by the specialized online site Disrupt Africa.
"My tech company is not in crisis."This is the motto of African start-ups after a record year in 2020. In total, according to data collected by the online site Disrupt Africa, 397 start-ups have raised more than $700 million in capital. An increase of nearly 43% in value compared to 2019, when they received $334 million. In addition, more and more start-ups are attracting capital: 27.7% more year on year.
The craze for African technology in 2020 is all the more impressive as it occurs in the year when investors have deserted the continent because of the pandemic. This phenomenon thus reflects the growing credibility of an increasingly powerful sector. In five years, African technology has attracted $1.9 billion.
In a recent report, "e-Conomy Africa 2020", the giant Google and the International Finance Corporation (IFC) estimate that the digital economy could contribute $180 billion to the African economy by 2025.
However, not all countries are in the same boat. Four of them stand out and receive 90% of the investments. They are, in order, Kenya, Nigeria, South Africa and Egypt. 77% of the start-ups financed were domiciled in these countries.
Kenya remains the land of plenty for start-ups, raising $190 million of the $700 million. The survey notes, however, that more and more African countries – 24 in 2020 versus 19 in 2019 – are participating in this global movement to attract international capital. Long lagging behind, French-speaking Africa is gradually emerging from the lot.
The fact remains that while investors are voracious, they remain cautious and do not put their money in just any electronic wallet, since it is the sector of fintechs, online banking and dematerialized payment solutions, which attracts the most funding. Of the 397 companies that have managed to attract capital, 99 are fintechs, or 25% of the total. Behind them, the e-commerce and e-health sectors complete the podium.