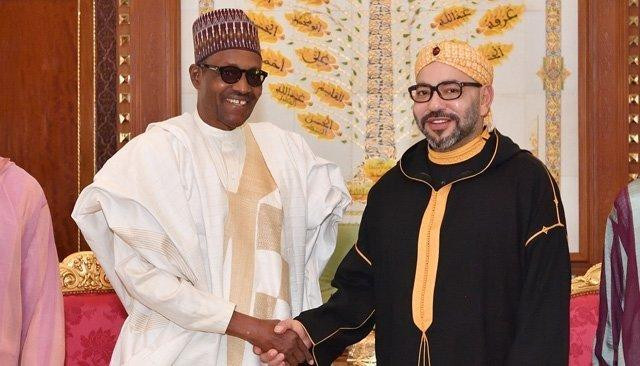 Morocco's King Mohammed VI and Nigeria's President Muhammadu Buhari stressed determination to achieve, as soon as possible, the gas pipeline between the two countries and the fertilizer plant to be set up by Morocco's phosphate group, the Royal Court said.
In a phone talk they had on Sunday, the two leaders welcomed the impetus added to bilateral ties between Morocco and Nigeria since King Mohammed VI's visit to Nigeria in 2016 and President Buhari's visit to Rabat in 2018.
On this occasion, President Buhari thanked King Mohammed VI for Morocco's steady support and solidarity with Nigeria in its efforts to counter terrorism and violent extremism.
President Buhari shed light in particular on Morocco's training of Nigerian Imams and religious guides.
ECOWAS support
In December, the gas pipeline project received a boost from the Economic Community of West African States (ECOWAS), which endorsed the project that will benefit 13 African countries instead of the Algerian ink on paper proposal of a tans-Saharan pipeline.
The pipeline will benefit 13 West African nations compared to the Algerian rusty promise of a transaharian pipeline that crosses only Niger and has never been subject to any feasibility study.
The Atlantic Nigerian-Moroccan pipeline will also help Western African nations develop their gas exports to Europe.
The offshore option for the West African pipeline is also safer compared to the riskier Algerian born-dead proposal of channeling Nigerian gas through the Sahara region where multiple terrorist groups operate.
The gas pipeline's benefits transcend channeling Nigerian gas to Morocco and Europe to promote trade, regional cooperation and energy diversification in West Africa.
"This project will give Africa new impetus at the economic, political and strategic levels and will elevate Morocco and Nigeria as leaders of south-south cooperation in the continent," Morocco's authority for oil and mines (ONHYM) and Nigeria's National Petroleum Corporation (NNPC) said in a joint declaration on occasion of Nigerian President's visit to Rabat in 2018.
The Algerian trans-Saharan gas pipeline is unfeasible as long as terrorist groups continue to operate in southern Algeria and northern Nigeria. It is also less beneficial to West Africa and more expensive and prone to destruction by terrorist groups.
In this respect, and in light of Algeria's diminishing gas export capacity, the Moroccan Nigerian gas pipeline will help West Africa achieve its energy security and help Europe have an alternative to reduce dependency on Russian and Algerian gas.
Fertilizer plant, a south-south cooperation project
As regards the fertilizer plant to be built in Nigeria by Morocco's phosphate group OCP, the group said last Summer that it is forging ahead with the project and expects to complete it by 2024 along the fertilizer factories in Ghana, and Ethiopia.
The Nigeria plant, which is part of Morocco's south-south cooperation approach that aims at addressing food security and developing agriculture in the continent, will produce up to 750,000 tons of ammonia and up to 1 million tons of fertilizers.
OCP has a market share in Africa of 58% of phosphates-based fertilizers and has offered training to 750,000 African farmers to help them move to larger production modes.
OCP has also developed programs to map soils and customize fertilizers to different soils as well as easing access to such a vital ingredient for improving crop quality and quantity.