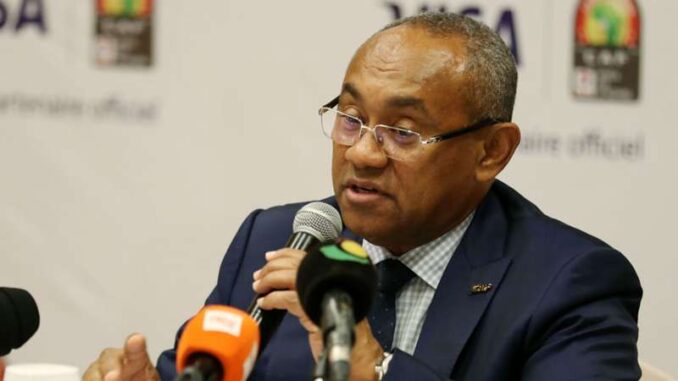 Forty-eight hours after the provisional lifting of his suspension by the Court of Arbitration for Sport (CAS), Ahmad Ahmad resumed his position as President of the Confederation of African Football (CAF). Constant Omari, who has assumed the interim in this position, has acknowledged this decision this Sunday, January 31.
More movement at the top of the CAF. Two and a half months after being removed from his mandate as president by the Fifa, Ahmad Ahmad is back. The Malagasy leader had received an initial favorable opinion on Friday, January 29, when the CAS set up a "fast-track procedure" to deal with the accusations against him and temporarily suspended the sanctions taken by the Fifa.
This Sunday, January 31, CAF formalized what the CAS decision implied: not only can Ahmad Ahmad campaign for the next CAF presidential elections, but in addition, the suspension of the sanctions will result in his return to the position of CAF president.
Emphasizing the suspensive nature of the CAS decision, the CAF states that, "consequently, he (Ahmad Ahmad) has regained his function. Constant Omari, who succeeded Ahmad Ahmad by interim, convened by videoconference the Emergency Committee of CAF this Sunday and "took note of the CAS decision. The statement added that the Malagasy politician "will refer to the Governance Committee of CAF from this Monday" February 1, about his candidacy in the March 12 elections for the presidency of CAF.
"I warmly thank Constant Omari for having assumed the presidency in recent weeks. He has brilliantly implemented the organization of the CHAN TOTAL Cameroon 2020. I will complete this magnificent competition, and allow that soccer, as always, triumphs," said Ahmad Ahmad, who had succeeded Issa Hayatou to the presidency of CAF in March 2017.
Ivorian Jacques Anouma, South African Patrice Motsepe, Senegalese Augustin Senghor and Mauritanian Ahmed Yahya are also in contention for the March 12 elections. These are elections in which Ahmad Ahmad, who has been reinstated as president, may be able to participate. The CAS is scheduled to consider his case on March 2 and make its decision by March 12.