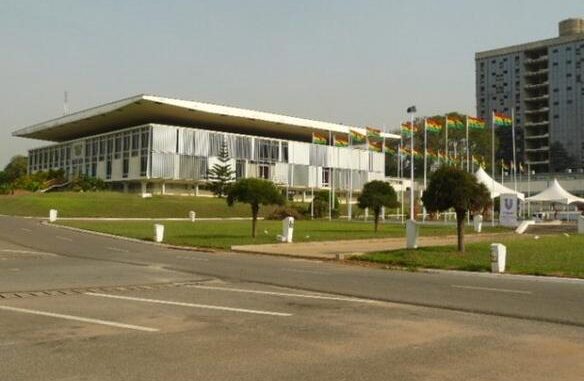 This closure will make it possible to disinfect the premises and quarantine the sick. A total of 17 parliamentarians and 151 staff members have all tested positive for the new coronavirus. Vigilance is now the order of the day in the National Assembly of Ghana.
The decision to close the Parliament was taken Tuesday afternoon, February 9, by its president Alban Bagbin in consultation with the leader of the parliamentary opposition Haruna Iddrisu. A necessary decision for the spokesperson of the National Assembly, Kate Addo: "We had done some tests and some were positive. Infected MPs were asked to isolate themselves, but as we carried out our activities, people continued to be infected. So it made sense to take a break, recover and then come back».
Already last week, Ghanaian MPs were forced to reduce their meetings to two sessions per week to limit the spread of the virus, but nothing has been done: cases have continued to increase. Some MPs had even pointed out the lack of caution of some of their members. This is the case of MP Clement Apaak, who heads the Builsa South constituency in eastern Ghana. He had accused some MPs of hiding the virus and continuing to come to Parliament despite the danger they posed to others, and to avoid a cluster, he had called for the suspension of Parliament. This has now been done.
If Parliament is closed, the activity continues. It is only the hemicycle that closes its doors," explained Kate Addo, Director of Public Affairs of the Parliament, to the microphone of our correspondent in Accra, Marine Jeannin. "Parliament is adjourned for the next three weeks. This means that the Assembly will not sit. There will be no plenary session activity. However, the work of the committees continues, including the nomination committees that work directly with President Nana Akufo-Addo for the cabinet reshuffle».
Committee rooms will remain open, including for MPs to validate appointments of new ministers. The process began this Wednesday, February 10, in camera. Nevertheless, the public will be able to follow the decisions online, only one TV channel is allowed, that of the public body.
Parliamentary activities will therefore be slowed down but will be able to continue remotely, in accordance with the recommendations of the health authorities. "Members of Parliament who need to work in groups and communicate with each other will be able to do so by teleworking. We have planned several virtual meetings, if necessary».
The closure of Parliament comes at a time when Ghana is undergoing a second wave of Covid-19, which is particularly virulent. The country now has more than 73,000 cases and nearly 500 deaths. A situation that prompted the national association of physicians to call for total reconfinement. The Parliament should in principle reopen on March 2, but this will of course depend on the evolution of the health situation.