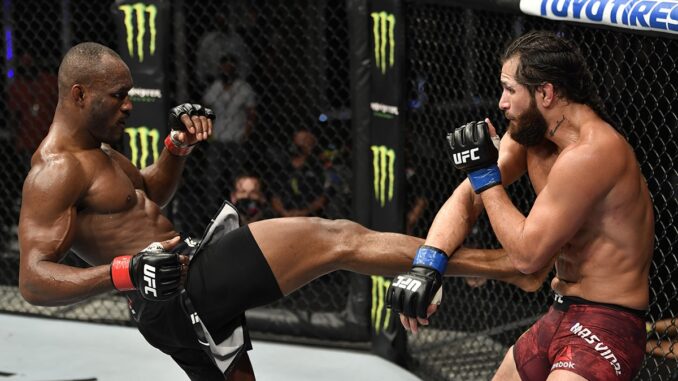 UFC Middleweight Champion Kamaru Usman won his 13th victory in as many fights on Saturday, February 13 at UFC 258 in Las Vegas. The "Nigerian Nightmare" defeated Brazil's Gilbert Burns and broke the record for most wins in his class.
A legend that no fighter can beat. Kamaru Usman signed, this Saturday, February 13 in Las Vegas, a thirteenth victory in thirteen fights at the Ultimate Fighting Championship (UFC). Invincible in his middleweight category, the Nigerian champion dominated his former training teammate Gilbert Burns by a technical KO in the third round.
After being knocked out in the first round, Kamaru Usman replied in the second round by sending the Brazilian to the ground. One all.
But at the beginning of the third act, the main fight of UFC 258 was definitively overturned by the 33-year-old Nigerian, who multiplied the blows on his former sparring partner, pushing the referee to stop the fight.
With this thirteenth consecutive success, the "Nigerian Nightmare" becomes the new record holder for the number of victories in his category at the UFC. The undisputed welter champion surpasses Canadian icon Georges St-Pierre and enters even more into the MMA (Mixed Martial Arts) legend.
At the end of the fight, Kamaru Usman immediately threw himself on the next one by saying he was ready to give a revenge to the American Jorge Masdiva whom he had beaten last July. We are already looking forward to it.