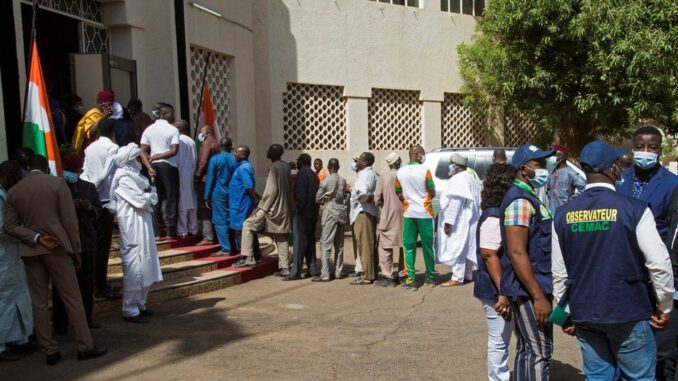 The candidate of the ruling party in Niger's presidential election, Mohamed Bazoum, won with 55.75% of the votes against the opposition candidate Mahamane Ousmane (44.25%), the National Independent Electoral Commission announced Tuesday. Results that remain "provisional", said the President of Céni, Issaka Souna.
The National Independent Electoral Commission proclaimed, late Tuesday afternoon, the provisional overall results of the second round of this presidential election in a short ceremony at the Palais des Congrès in Niamey.
According to these figures, the candidate of the ruling PNDS party, Mohamed Bazoum, comes first with 55.75% of the votes. His opponent Mahamane Ousmane, candidate of the RDR Tchanji, received 44.25% of the votes cast. And still according to these results announced by the Céni, the participation rate is 62.91%.
The president of the Electoral Commission, Issaka Souna, specified that these results were provisional and submitted to the analysis of the Constitutional Court.
This proclamation is made against a background of dispute. This Tuesday afternoon, the president of the coordination of the campaign of Mahamane Ousmane made a statement in Niamey, before journalists and activists gathered at the campaign headquarters of the coalition Cap 20/21 and allies. Two hours before the proclamation of the provisional overall results by the Independent National Electoral Commission, in a Niamey congress center where security is reinforced, he called for the immediate suspension of this publication: "We demand the immediate suspension of the publication of these results which in no way take into account the will expressed by the people," said Falké Bacharou. He speaks of "serious shortcomings" in the electoral process and invites "all Nigeriens to mobilize as one to stop this electoral hold-up.
After this declaration, some groups of activists take to the streets in Niamey, burning tires, tearing down posters and shouting "tchanji", change in Hausa. They are dispersed by the security forces. The campaign leadership of the MNSD party, which supported candidate Mohamed Bazoum, is ransacked.
In the evening, the latter said he sent a message to Mahamane Ousmane to ask him to "ensure that power and opposition are looking in the same direction and that we join hands to face the challenges facing our country. He chose to show composure and poise, congratulating his opponent, whose score he hails as "excellent".