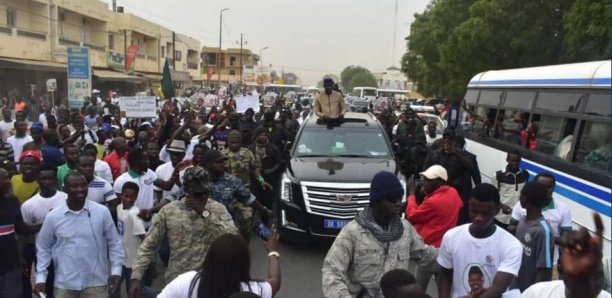 While the opposition leader Ousmane Sonko was on his way to the investigating judge's summons, the deputy was arrested and taken to the research section for "disturbing public order", his lawyers said.
Ousmane Sonko was expected at the courthouse in Dakar this Wednesday morning, where he was summoned by the investigating judge in a rape case. Ousmane Sonko had initially stated that he would not attend the summons, before changing his mind, on the advice of his lawyers, his religious guide and civil society leaders. But accepting this summons "is not an abdication," he added Tuesday, calling on his supporters to remain mobilized.
The convoy of the opponent left his home around 9am, a journey filmed live on his Facebook page, accompanied by supporters, who had gathered en masse, despite a major security operation.
But there was a dispute with the prefecture about the route to the court. Ousmane Sonko then protested, declaring that he was "free of his movements. The convoy remained blocked for several hours.
The tension has risen. Activists were dispersed with tear gas and the opponent was arrested for "disturbing public order and participation in an unauthorized demonstration", according to his lawyers, and taken to the Research Section where he was taken into custody.
This provoked clashes between the forces of law and order and demonstrators chanting "Free Sonko," especially in this neighborhood of Colobane, all afternoon: tear gas was fired at stone throwers. The stores had lowered the curtain on the Centennial alleys, littered with stones, bricks, and burnt tires.
No overall assessment is available this Wednesday evening on the number of injured, material damages or arrests. This new development has in any case increased the tension in this affair which has been agitating the country for more than 3 weeks.
Youssoupha Camara, one of the lawyers of the collective defense of Ousmane Sonko denounces this arrest which is, according to him, a "pretext".
In addition, about twenty opposition deputies filed an appeal before the Constitutional Council to contest the lifting of Ousmane Sonko's parliamentary immunity vote last Friday.