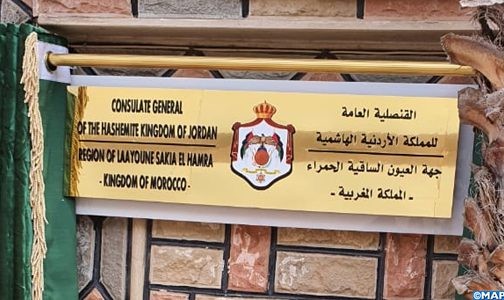 Jordan has materialized this Thursday its plan to open a consulate in Laayoune, joining some 20 mostly Arab and African countries that have opened a diplomatic mission in Dakhla and Laayoune in a tangible expression of their support for Morocco's sovereignty over the Sahara territory.
The decision to open a Jordanian embassy in the southern provinces was announced after phone talks between King Mohammed VI of Morocco and King Abdullah II of Jordan last November.
The move signals the legitimacy and international and Arab support for Morocco's sovereignty over the Sahara and its territorial integrity which was bolstered by the US recognition of Morocco's rights to the Sahara territory.
The inauguration ceremony of the consulate was co-chaired by Jordanian Deputy Prime Minister and Minister of Foreign Affairs Ayman Al-Safadi and Moroccan Foreign Minister Nasser Bourita.
During the phone talks in November, King Abdullah II had welcomed Morocco's decisions to secure the movement of people and goods in the region of El Guerguarat in the Moroccan Sahara.
The Jordanian King had also congratulated Morocco for the success "of this operation and the re-opening of the crossing to the secure movement of people and goods from the Kingdom of Morocco to the countries of sub-Saharan Africa."
The Jordanian open support for Morocco adds to similar firm stands in support of Morocco's sovereignty over the Sahara expressed by all Gulf countries.
Jordan becomes the 11th country to inaugurate a consulate in Laayoune after the United Arab Emirates, Bahrain, Côte d'Ivoire, the Comoros Islands, Gabon, Sao Tomé and Principe, the Central African Republic, Burundi, Eswatini, and Zambia.