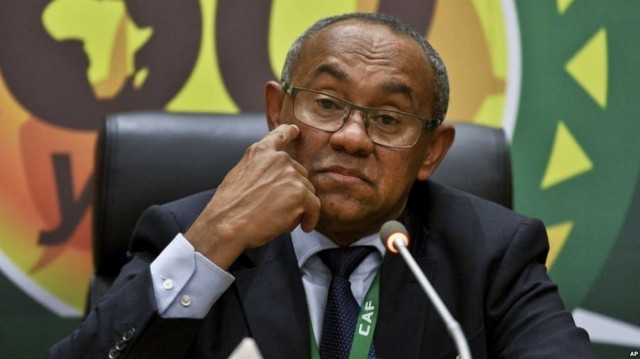 The Court of Arbitration for Sport (CAS) has reduced to two years the five-year suspension imposed in November 2020 by the International Football Federation (FIFA) on the President of the African Confederation (CAF) Ahmad Ahmad. The CAS found that the Malagasy violated, among other things, the rules on "distribution of gifts and embezzlement. The current boss of African soccer will also have to pay a fine of 50,000 Swiss francs.
Ahmad Ahmad is no longer the president of the Confederation of African Football (CAF) four days before the official end of his first term. And he will not be able to run for a second term in Rabat on March 12, against South Africa's Patrice Motsepe, the last candidate in the race after the withdrawals of Jacques Anouma, Augustin Senghor and Ahmed Yahya.
The Malagasy suspension from all activities related to football has indeed been significantly reduced but confirmed by the Court of Arbitration for Sport (CAS) on March 8, 2021. Those who had been dismissed for five years in November 2020 by the International Football Federation (Fifa) saw this sanction reduced to two years.
The CAS, the supreme body in sports disputes, "partially admitted the appeal and reduced the length of the suspension imposed on Mr. Ahmad Ahmad to 2 years". The three arbitrators in charge of the case, however, found the now former boss of African soccer guilty of "failure to record various financial transactions, acceptance of cash payments, bank transfers of bonuses and indemnities without contractual or regulatory basis.
They also believe that the person concerned has violated the rules on "distribution of gifts and embezzlement (use of CAF money to help finance an invitation to a pilgrimage to Mecca)". On this point, which undoubtedly weighed heavily in the two years inflicted, the three arbitrators obviously did not agree since one of them did not retain this infringement.
By one vote, Ahmad Ahmad could have had his suspension further reduced. In his camp, a sentence of no more than a few months was expected.
The Malagasy, on the other hand, was not punished in the case of Tactical Steel, named after the company that supplied equipment to the CAF and which led to Ahmad being heard by the French justice in June 2019. "The Panel considers that the evidence in the case file does not allow to conclude that Mr. Ahmad Ahmad has received any personal benefit in particular in the context of the transaction for the equipment of the 2018 African Nations Championship (no breach of the duty of loyalty and no abuse of power)," continued CAS in a statement.
The CAS also reduced the fine imposed by Fifa from 200,000 to 50,000 Swiss francs.