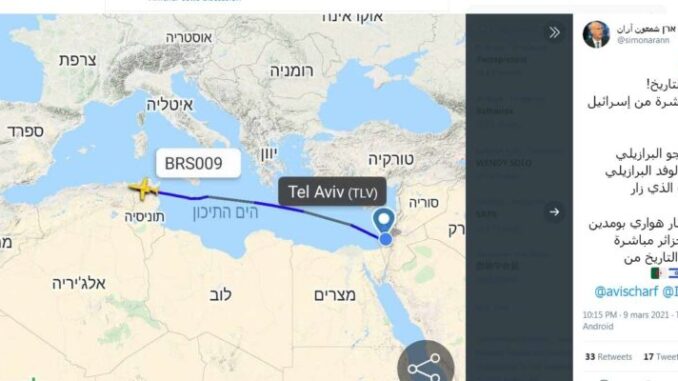 The stopover at Algiers airport of a plane coming directly from Tel Aviv reveals the deep hypocrisy of the Algerian regime, which is famous for its anti-Semitic discourse and harsh criticism of contacts between Israel and Arab countries, as was the case lately when Morocco re-established ties with Israel.
A tweet, relayed by Israeli daily Yediot Aharonot, revealed lately that a Brazilian military aircraft flew from Tel Aviv to the Houari-Boumedienne Airport in Algiers.
The air connection was widely commented as a "first," since Algerian leaders consistently point to Israel as the enemy to be brought down, in their attempt to deceive the Algerian public opinion.
However, this stopover, which contradicts Algeria's displayed position with regard to the Hebrew state, is not the only duplicity of the military-controlled regime.
Faced with the Hirak protest movement that has resumed since mid-February and with the health crisis and its inability to stem the worrying spread of Covid-19, the Algerian regime, which conceals the real numbers of contaminations, as the WHO has denounced in a recent report, is seeking life-saving vaccines from anywhere, were it from Israel, the long-standing enemy.