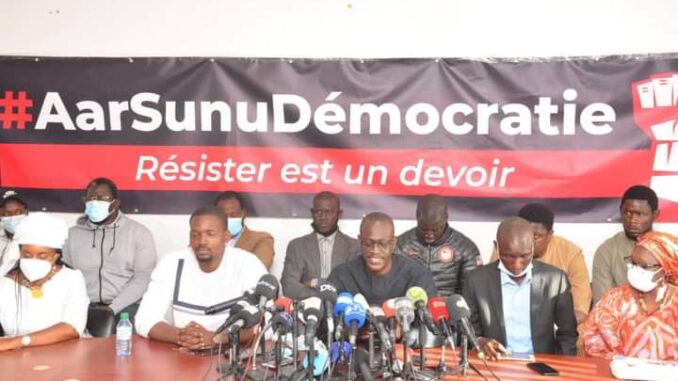 The Movement for the Defense of Democracy (M2D) launched a new call for mobilization for a peaceful rally this Saturday, March 13. The coalition, created last week, brings together opposition political parties (including Pastef d'Ousmane Sonko) and civil society movements (including Y'en a Marre). The M2D had suspended the demonstrations planned for Tuesday and Wednesday, after several days of demonstrations and violence that resulted in at least 5 deaths according to the official balance sheet, 11 according to the opposition.
The M2D said it was "concerned about peace and stability" and explained that it had heard "many appeals" and advice, including from religious leaders, to justify suspending the demonstrations planned until Wednesday. These authorities, who are very important, were very worried because a whole communication effort has diverted the real causes – that is, the struggle to preserve democratic gains – from a communication about the material damage and insecurity," explains Ndèye Fatou Diop Blondin, a member of the collective. We had to give them guarantees that we have clear objectives. We give them guarantees of understanding. »
Nevertheless, the collective has announced two new appointments. First this Friday, with a day of "mourning" in honor of the victims of the demonstrations of recent days and then Saturday, March 13, a call for a peaceful gathering, in Dakar place de la Nation, but also in the regions and in the diaspora, with the national flag. To defend "democracy and the rule of law".
"The indiscriminate repression that fell on the young demonstrators is unprecedented in the history of Senegal, said the Movement, through the voice of one of its representatives, Alioune Badara Mpoub. The M2D calls on the Senegalese people to a peaceful rally in the Place de la Nation on Saturday, March 13 for the release of detainees. Peaceful gatherings are also planned in the regions and the diaspora. »
The movement has formulated several demands, including the immediate and unconditional release of those it calls "political prisoners. It denounces new arrests related to the recent demonstrations.
New call therefore after a very important mobilization Monday in the capital on the same square of the nation, but also in the region. Mobilization relayed on social networks with the hashtag #FreeSenegal. No comments from the movement on the call for calm and appeasement launched Monday evening by President Macky Sall, the head of state who assures to have "understood" the concerns and preoccupations of the youth.
Another statement Tuesday, that of Idrissa Seck's Rewmi party, now allied with President Macky Sall. He "welcomes" the "restoration of tranquility" in the country after the call for appeasement launched by the head of state.