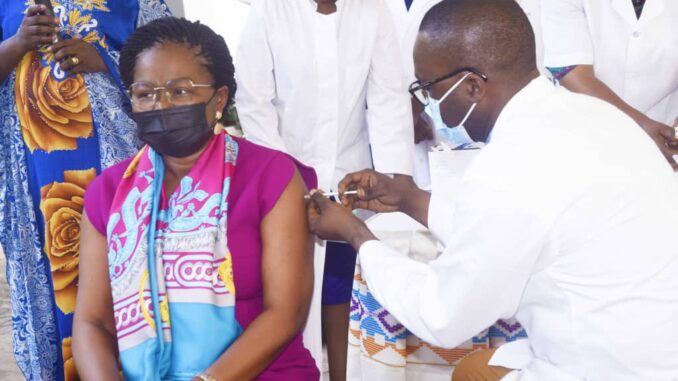 The first doses of the Covid19 vaccine were received last Sunday; after the convoying of these doses to the interior of the country, the government officially launched the vaccination campaign on Wednesday, March 10. The vaccine is AstraZeneca's Covax initiative, 156,000 doses in the first instance. Despite the concerns in the population, the program is in execution assures the scientific committee, it is possible to reduce deaths.
Victoire Sidémeho Dogbé, the Head of Government herself, inaugurated the vaccination program, followed by some members of the government, parliamentarians and the scientific committee for the response to the pandemic who were inoculated with the first doses of vaccine. Then Victoire Sidémeho Dogbe launched the vaccination process
"Like me, they will be vaccinated and will not develop severe forms of the disease. This is what scientists say. Awareness has started in the country and is ongoing throughout the national territory".
Starting this Thursday, then Friday, all health personnel, both public and private, learners in training schools and students in science faculties will be vaccinated. This will be followed by people aged 50 and over and vulnerable people in the prefectures of Gulf and Agoe, in short, the greater Lomé area.
On the concerns, "it can have side effects as for any vaccine" reassured Didier Koumavi Ekouévi, member of the scientific committee, after having been vaccinated himself. "Scientifically, the vaccine we received is the AstraZeneca vaccine, an effective vaccine since it prevents 90% of severe forms of the disease."
The curve of the spread of the disease does not weaken, a little less than 100 deaths officially recorded but nothing reassuring, according to a source close to the government. The state of emergency, which should end this March, should still be extended.