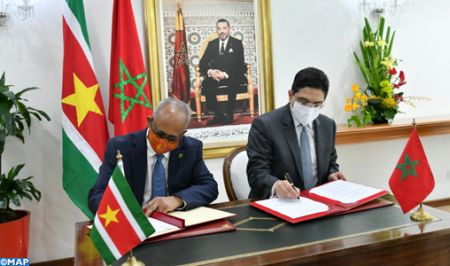 Suriname announced that it has decided to open an embassy in Rabat and a consulate in Dakhla, to give new momentum to its relations and cooperation with Morocco.
The announcement was made at a press briefing on Thursday in Rabat by visiting Surinamese Minister of Foreign Affairs, Albert Ramdin.
The Surinamese top diplomat said he had discussed with his Moroccan peer Nasser Bourita the opportunities to develop b2b relations between the two countries, with a view to strengthening bilateral trade.
Ramdin noted that since the establishment of diplomatic relations between Morocco and Suriname, in July 2004, the partnership between the two countries has significantly evolved.
During their talks, the two officials established a 2021-2024 cooperation roadmap, meant to consolidate the excellent and friendly relations existing between the two countries.
They also decided to deepen political dialogue, and enhance the sharing of views on regional and multilateral cooperation, noting that cooperation between the North African Kingdom and the South American country is an essential element of South-South cooperation, solidarity and mutual respect.
Regarding the regional dispute over the Moroccan Sahara, Ramdin reaffirmed his country's support for the territorial integrity of Morocco and its unshakeable stand concerning the Moroccanness of the Sahara and the sovereignty of Morocco over its southern provinces.
He also reiterated Suriname's support for the Morocco-proposed autonomy plan proposed as the sole basis for a lasting political solution to this dispute.