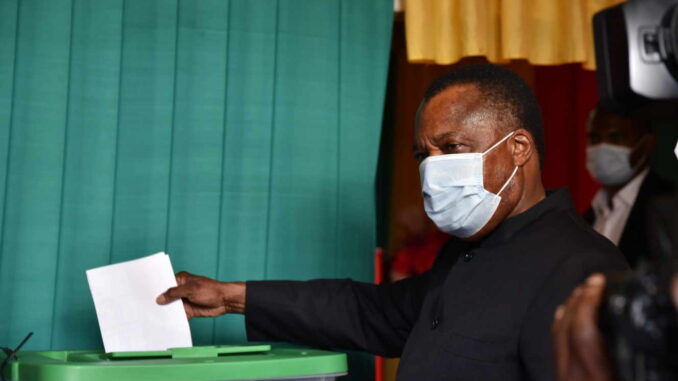 With 88.57% of the vote, according to the official provisional results announced on Tuesday, March 23, Denis Sassou-Nguesso was re-elected for five years as president of Congo-Brazzaville. But his opponents intend to appeal against this election, which they denounce. The speed of the publication of these provisional results and certain articles of the Constitution motivate their decision
After 37 years at the helm of the country, Denis Sassou-Nguesso is to start a new five-year term as president of Congo-Brazzaville. The head of state was re-elected with 88.57% of the vote, according to provisional results announced Tuesday by Raymond Mboulou, the Interior Minister. After greeting his supporters and wishing them prosperity, Denis Sassou-Nguesso sent a message to the defeated candidates in this election. He reminded them that Congo-Brazzaville was a common good.
But this outstretched hand did not find a taker. The opposition is up in arms against the provisional results proclaimed on Tuesday, less than 48 hours after the polls closed. All denounce a "calamitous" election, while the African Union observers noted several dysfunctions in the organization of the vote.
The speed of these provisional results is the most common complaint. Mathias Dzon, who came third according to these results with 1.90% of the vote, believes that they were compiled in a hurry:
"It is not in one day that we can compile the results from all over the Congo, and it is not in this way that we can give them. There is something surprising: in most of the results, we follow the order of presentation of the candidates on the ballot. So, it is something preconceived."
The same is true for Jean-Jacques Yhombi-Opango, an ally of the late Guy-Brice Parfait Kolelas, who came second with 7.84% of the vote. According to him, the speed with which these results were announced is doubtful:
"I would like to see what material they were able to do. I want to see evolution. We are told here that there is no biometrics, that there is no such technology. Can we do it so quickly? I'm quite surprised. This is not normal. All the compilations have not yet arrived in Brazzaville. It's really very dirty."
The opposition is contesting the results from the forest regions in the north, more than 900 kilometers from the capital Brazzaville. Anatole Collinet Makosso, spokesman for Denis Sassou-Nguesso's campaign, dismissed these accusations, saying the opposition should have been better organized
The opposition has three days from the reading of the provisional results to file an appeal.