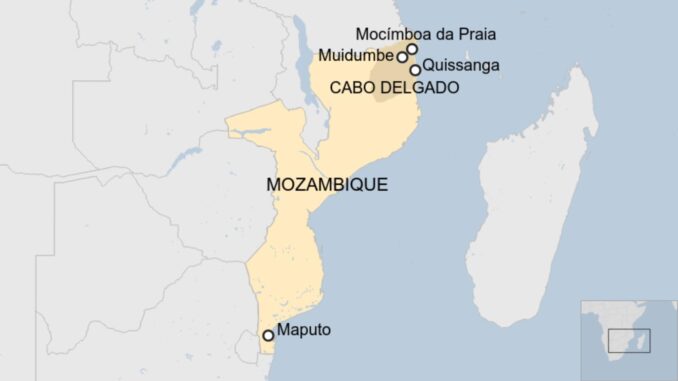 Dozens of civilians have been killed in Palma in northeastern Mozambique, according to the Mozambican government. The evacuation of people is underway after the terrorist attack that started on Wednesday, March 24. Jihadists from the Al-Shabab group, affiliated with the Islamic State group, took control of this town of 75,000 people in Cabo Delgado province on Friday. Mozambican security forces are now on the ground battling "pockets of terrorists," according to a national television bulletin.
Several dozen people have been killed in a major jihadist attack since Wednesday in Palma, in northeastern Mozambique, the Mozambican government announced Sunday. Seven people were killed in an ambush as security forces tried to evacuate nearly 200 people holed up in the Amarula Hotel, the Defense Ministry said at a press conference.
"A group of terrorists entered the district capital of Palma in hiding. They unleashed actions that culminated in the cowardly killing of dozens of defenseless people and material damage to government infrastructure," said Omar Saranga, spokesman for the Mozambican Ministry of Defense said.
On the lawn of a hotel in Palma, employees wrote SOS in capital letters, according to press reports. About twenty people were rescued, but searches are still underway. Fleeing the fighting, many people have dispersed on foot and hid in the vegetation making it difficult to locate them.
The absence of telecommunications, since the beginning of the attack on Wednesday, is slowing down the search. Many foreigners are present in the area. They are working on the site of a huge gas project operated by Total, located only ten kilometers from the town of Palma.
"They have been targeted for the first time," says a Christian missionary who is more used to the abuses of the Al-Shabab group against villagers.
The foreign workers from Palma were exfiltrated by boat to the town of Pemba, 400 km south of the besieged town. The fate of the thousands of refugees who made up part of the population of Palma is not known, nor is the number of victims. Since the terrorist attacks began in 2017, the conflict has displaced more than 600,000 people and killed 2,600.
Paralyzed for several months, the gas project piloted by the French company Total was supposed to resume last Thursday, but the large-scale attack launched by the Al-Shabab group on the town of Palma, ten kilometers from the gas site, has put a new halt to the work. The project was first suspended in January following jihadist incursions, and the personnel had just returned to the site.
Today, Total is repatriating most of its employees from the Afungi site to Maputo, leaving only the bare minimum there, according to a press release. Over the past few months, Mozambique has announced several times that it is carrying out operations to secure the region, in order to reassure the French company.