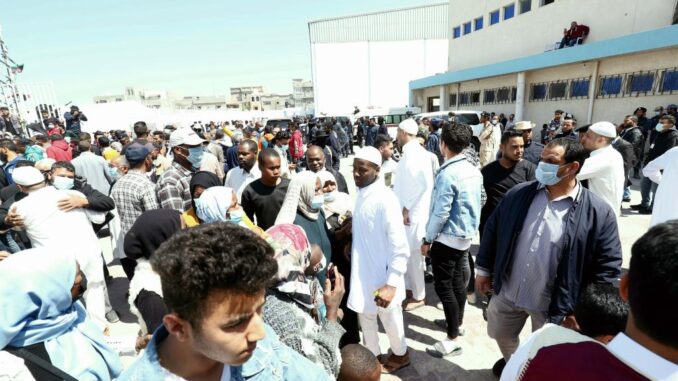 The release on Wednesday, March 31, of more than 100 prisoners held since the start of Field Marshal Khalifa Haftar's abortive offensive to seize the capital in 2019, was welcomed locally and by the United Nations.
It was at the initiative of a local dialogue group that these prisoners of war were released on Wednesday 31 March. All dressed in white in traditional Libyan dress. They were welcomed by the "youyous" of their families. The ceremony, which took place in the town of Zawiya, 70 km from Tripoli in western Libya, was surrounded by a large security detail. The gesture is seen as a first step towards the hoped-for national reconciliation. Calls have been made to release all prisoners.
The released prisoners are all very young and inexperienced. Embarked in the war, they belonged to the 107 brigade of the Libyan National Army led by Khalifa Haftar, although they are all from the west of Libya. Mainly from two cities: Sabrata and Sorman.
During his speech, the head of the Presidential Council, Mohamed al-Manfi, called for "moving forward to rebuild the country. National reconciliation is, for him, at the top of the Presidential Council's priorities. It is the "cornerstone to build a civil and unified state" he said. His vice-president, Moussa al-Koni, urged other cities to follow Zawiya's example by releasing prisoners over the past two years.
According to the Geneva political agreement signed last fall, all prisoners of war should be released. In January 2021, the two rival camps had carried out a first prisoner exchange in accordance with the ceasefire agreement.