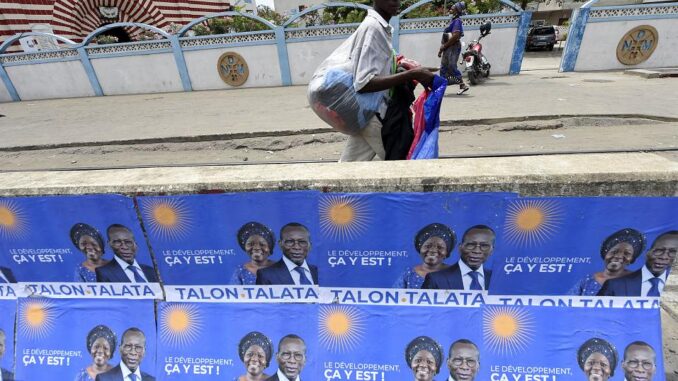 According to the provisional results announced this Tuesday evening by the Autonomous National Electoral Commission, Beninese President Patrice Talon was re-elected in the first round of the presidential election with 86.57% of the vote and a turnout of 50.17%. The Talon camp briefly celebrated its victory at the party headquarters in Cotonou.
According to the provisional figures announced by the Electoral commission, Patrice Talon and his running mate Mariam Chabi Talata came out on top in the presidential election with 86.57% of the votes cast, or just under 2 million votes. The head of state "obtained an absolute majority of the votes cast in the first round," the electoral commission said.
The duo Soumanou/Hounkpè, from the FCBE party, came second with 11.29% of the votes. Paul Hounkpè denounced irregularities that would have penalized them: "These are provisional results. Given some irregularities, we believe we are beyond this score. We hope that our score will be revised upwards. "
In third place, Corentin Kohoué and Irénée Agossa total a little more than 2% of the votes cast. Corentin Kohoué, dissident of the party Democrats, right to speak on Wednesday, reports our correspondent Jean-Luc Aplogan. But he has already said that "the results are a reflection of the atmosphere in the country.
On the side of the camp of President Patrice Talon, the opinions are quite different. The director of communication of the presidency, Wilfried Houngbedji, sees this score of 86.17% of the vote as a bonus to the record of the first term: "This is a sign of the support that Beninese have made, to give a chance to the immense work of development for five years to continue. We have no answer to those who think that there was no election. "The Front for the Restoration of Democracy has not yet reacted. One of its leaders said clearly that "it is not worth it".
The Electoral Commission announced a rate of 50.17% nationwide. This participation was one of the issues of this election, which was held in the absence of major opposition figures, who were unable to attend.
After stating on Sunday that the vote could not be held in 16 of the country's 546 districts, due to pre-election tensions in the Centre, the Electoral commission finally corrected the figures: only 13 districts are concerned.
These provisional results must now be transmitted to the Constitutional Court, which is responsible for proclaiming the final results of the election. The Electoral commission reminds that these results can be appealed to the same court.