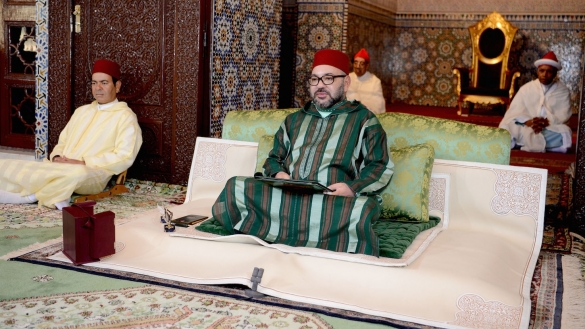 The 22nd edition of the Food Distribution Operation "Ramadan 1442", which will benefit this year three million people, will be launched Wednesday upon instructions of King Mohammed VI.
King Mohammed VI has given his instructions for the launch of the 22nd edition of the Food Distribution Operation "Ramadan 1442", which will benefit three million people, i.e. 600,000 households nationwide including 459,504 households in rural areas, the Mohammed V Foundation for Solidarity announced on Tuesday in a press release.
The aid distribution to vulnerable and poor populations will kick off on the first day of the holy month of Ramadan that starts in Morocco on Wednesday April 14.
This large-scale solidarity operation, initiated since 1999, will continue despite the context of health emergency, said the Foundation, noting that amid the pandemic, national solidarity and mutual aid are essential to relieve poor families that were affected by the socio-economic impacts of the health crisis.
This 22nd edition, organized with the financial support of the Interior Ministry (General Directorate of Local Authorities) and the Ministry of Endowment and Islamic Affairs, will unfold in line with mechanisms abiding by the security measures decreed by local authorities. Various health risk prevention measures have been adopted at the level of local monitoring committees in order to ensure the health and safety of the populations. They include the disinfection of supply centers, food baskets and transport vehicles, social distancing, reduction of staff and direct delivery of aid.
The food assistance will be distributed door-to-door by small field teams to the heads of beneficiary households (widows, elderly, people with disabilities and people living in precarious situations), identified by the provincial committees.