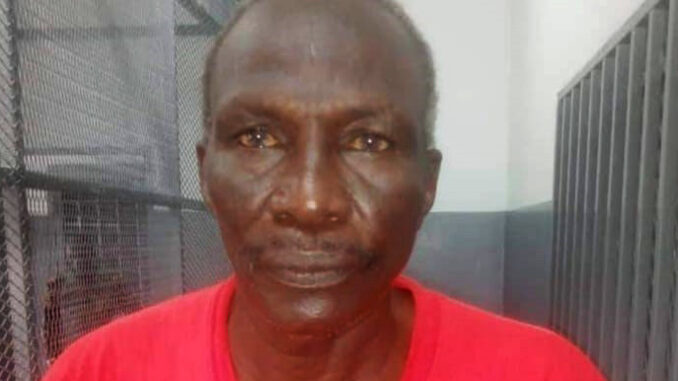 The first day of the confirmation of charges hearing for Sudanese Ali Muhammad Ali Abd-Al-Rahman, also known as Ali Kushayb, took place in The Hague on Monday, May 24. He is suspected of committing war crimes and crimes against humanity. During this first hearing, it was mainly the prosecution's task to try to convince the court to go to trial.
Ali Kushayb, a Janjaweed warlord who worked for the Sudanese government, was transferred to the ICC on June 9, 2020, after voluntarily surrendering in the Central African Republic. Abd-Al-Rahman is suspected of 31 counts of war crimes and crimes against humanity, allegedly committed between August 2003 and at least April 2004 in Darfur, Sudan.
The defense began with some quick observations about the regularity of the preliminary proceedings. Then the prosecution took the floor. It began its presentation on the merits and started with the context of the time, the position of the different parties in the conflict and the role of Ali Kushayb in this context.
The prosecution, led by Fatou Bensouda – who recalled that this was likely to be her last appearance at the court as ICC prosecutor – set out to present its case against Ali Kushayb, demonstrating that he was a senior Janjaweed leader at the time, "respected and feared. It was demonstrated that he had an important link with members of the government at the time, and that he acted as an intermediary between the authorities and the Janjaweed groups on the ground.
Above all, the presentations attempted to prove the warlord's involvement, his decision-making power and his participation in various attacks in Darfur that resulted in hundreds of civilian casualties. The prosecution presented, by location and type of crime, the facts of which Ali Kushayb is accused. Numerous cases were detailed, with documents and testimonies to support them. The systematic nature and selection of victims guided by gender, ethnicity and political affiliation.
The prosecution's objective: to convince that there is sufficient evidence to take the case to trial.
Testimonies were also put forward, such as this account from a witness about the mistreatment of community leader Umdah Yaya in Mukjar. It was read by Pubudu Sachithanandan, Deputy Prosecutor
During all this time, Abd Al Rahman with greying hair, glasses and a small moustache listened attentively. He remained silent all day during these long hours of chilling readings, most of the time with his arms crossed over his chest, sometimes swaying in his chair. When the prosecution moves on to the presentation of evidence, Ali Kushayb with greying hair, glasses and a small moustache has slightly untied the knot of his striped tie, in purple colors. The hearings resume this Tuesday morning, with the end of the presentations of the prosecution, followed by the representatives of the victims.