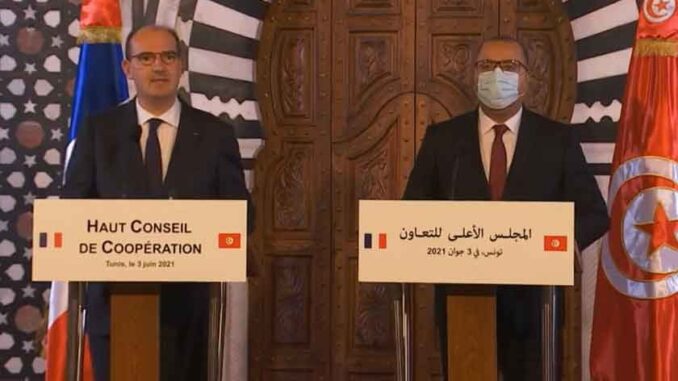 Tunisia and France signed six cooperation agreements in several fields including agriculture, trade and maritime transport, during the third High Joint Cooperation Council held Thursday.
Prime Minister Hichem Mechichi and his French counterpart Jean Castex oversaw the signings.
Under one of the deals, France will allocate Tunisia €41 million in the form of a sovereign loan in favor of Merchant Marine and Ports Office for the acquisition of six new tugboats to replace six old ones acquired in 1980 and 1990.
Paris will also lend €40 million for the financing of National Disaster and Climate Change Resilience Program over 2021-2026 period.
A partnership convention dubbed "FEXTE "and valued at €202,000 was signed between SONEDE [the state-run Tunisian company], the French Development Agency AFD and Aquassay [a France-based supplier of industrial and environmental performance solutions for the connected plant] to improve the industrial and professional performance of the two desalination plants in Djerba.
The two countries agreed, under another deal, to set up a joint Tunisia-France working group to develop technical cooperation ties in the area of trade and export development.
A new administrative arrangement will revive bilateral cooperation in the areas of agriculture, rural development, and agri-food, while another deal provides for the establishment of "Digital Dialogue" between the two countries with the aim of spurring exchange and sharing of experiences and best practices in the digital sector and to promote complementarities and synergies.
The agreements were signed at a time Tunisia is facing economic hardships.