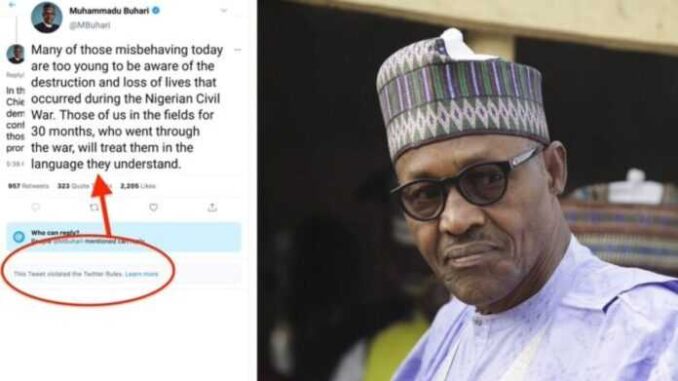 While the authorities cut off access to Twitter on Friday, June 4, the broadcasting regulatory body, the National Broadcasting Commission (NBC), asked the media to suspend their social network accounts. They reacted.
"Will be considered unpatriotic any broadcast media if it continues to use Twitter, which is suspended," said the NBC statement.
The international partners in a joint statement said that such a measure was not the solution.
If the broadcast media respect the measure of the NBC, for fear of fines or prosecution, the print media will continue tonight their activities on this social network, via their virtual private network (VPN). The profession is committed to this measure. "We are not worried because it is our job and it must be done," said the director of publication of Premium Times. Contacted, the National Union of Nigerian Journalists denounces a measure that "goes absolutely against the freedom of the press and freedom of expression," says the president of the union, Emmanuel Ogbeche. When you start blocking access to a major platform that serves the public like Twitter, how then can the media be accountable to the people? This is wrong, we find it questionable, we find it disturbing. We hope that the Nigerian government will correct this imbalance as quickly as possible. "
The unionist said discussions are underway with the government to allow the broadcast media to resume their activities on the social media Twitter. This dialogue has been "ongoing since the controversial Broadcasting Code took effect. We will continue to dialogue with the government in the hope that this section of the code will be removed. We will continue to engage in this process because dialogue remains the only option for us to address the shortcomings of existing regulations and codes in the broadcasting industry.
On Friday evening, the Ministry of Information and Culture announced that the government was suspending the social network's services indefinitely following the deletion of a tweet by President Buhari, saying it violated its rules of use regarding hateful conduct.