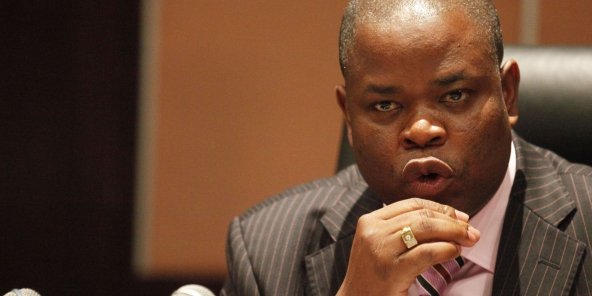 "We are not in opposition with the government on the return of Laurent Gbagbo," said Koné Katinan, spokesman for the ex-president before the press on Wednesday in Abidjan. With new language, the head of communications within the reception committee gave some details on the preparations. He still does not want a discreet return, but a "visible return.
The spokesperson confirmed June 17 as the date of Laurent Gbagbo's return. His plane, a commercial flight, is expected to land mid-afternoon. He then went on to talk about the format of the return and said he wanted "a visible welcome". "What we want is for the VIC to be celebrated everywhere. Not everyone has to converge on the airport, but some people show their joy where they are," Justin Koné Katinan explained yesterday.
To date, we have no restrictions from the government," said Mr. Katinan, adding that the government remains a partner in these preparations. "We are not in opposition. The former president is returning for peace and reconciliation," he said.
Question from the floor: Is a meeting with President Alassane Ouattara planned? His answer: "There are obvious things, we have our traditions. It will happen, Ivorians want it. "
Another issue is the conviction of his champion by the Ivorian justice and the threats of the victims' association. "Mr. Gbagbo was acquitted by the ICC, the case is closed, we must not dramatize the pain of Ivorians. "
At the end, Koné Katinan's phone rings, he answers: "Yes, boss". Then he gets up and isolates himself. As soon as he hung up, he immediately called a press conference for tomorrow, Thursday. The one he called "boss", Laurent Gbagbo, has certainly communicated new elements.
For the past 36 hours, a photo of a plane ticket in the name of Laurent Gbagbo and Nadiany Bamba on the Brussels Airlines flight of June 17 has been circulating on social networks. Arrival scheduled for mid-afternoon. Date and time confirmed this Wednesday by Justin Koné Katinan.
The D-day is approaching and discussions on the modalities of the return are progressing to settle the "details". "At no time has dialogue been broken off, discussions are continuing," said government spokesman Amadou Coulibaly yesterday after the Council of Ministers, adding that a new meeting was scheduled for Thursday between Interior Minister Diomande Vagondo, who is leading the discussions on behalf of the Prime Minister, and a delegation of Laurent Gbagbo's emissaries.
Both parties have put water in their wine. This was seen on the FPI side. The government has also abandoned the idea of a "discreet" welcome.