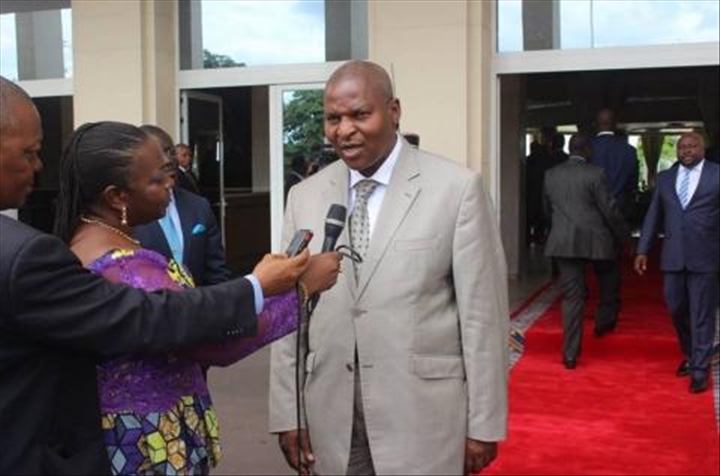 The Central African Republic has had a new government since Wednesday evening, long awaited, six months after the re-election of President Touadéra and since the appointment of the new Prime Minister Henri-Marie Dondra on June 12. The names were unveiled at the Presidency.
More than half of the 32 ministers are new entrants. Among the positions redistributed are key posts such as Defence, Interior, Justice and Mines. A core group of ministers close to the president and already present in the two previous governments are keeping their positions: Foreign Affairs, Planning, Humanitarian Action and Health.
Contrary to expectations, the executive seems to be tightening around President Touadéra of the ruling party and his allies. Defense, which goes to Claude Rameaux Bureau, Energy to Arthur Bertrand Piri, and Territorial Administration are occupied by the first circle of the head of state. The mines by an executive of the MCU. The Minister of Foreign Affairs remains in place despite the opinion of some diplomats.
Youth is not represented, and there are few women. There is little room for the opposition, although two former presidential candidates are appointed, as well as a member of the RDC party of former President Kolingba. A few positions were given to civil society, but to personalities considered to be in favor of the majority: the rector of the University of Bangui or the president of the Central African Women's Organization.
On the side of the armed groups, the same figures have kept their positions. The only entry to note is that of Gilbert Toumou Deya, who was already in charge of a special mission at the presidency. A portfolio is dedicated to the monitoring of the peace agreement.
The list unveiled on Wednesday has caused some teeth gnashing among civil society and the opposition, none of whose major figures have entered the government. "There is certainly a return to control by the party that won the elections," explains a source close to the government, but "the opponents of COD-2020 have dragged their feet" in the discussions, she continues. Nevertheless, the door is not closed and "things can still evolve," particularly at the end of the republican dialogue promised by President Touadéra in the coming days.