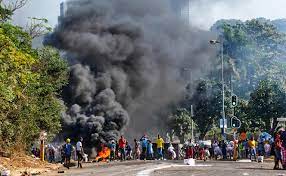 The army was called in Monday to contain the outbursts in South Africa, on the fourth day of violence initially triggered by the imprisonment of former President Jacob Zuma and which has already left ten people dead.
Incidents broke out on Friday in Zulu country (east), where Mr. Zuma is originally from and where he was imprisoned after being sentenced to 15 months for contempt of court.
Since then, the unrest has spread to the poorer areas of Johannesburg where Mr. Zuma's fate is largely irrelevant. There, the engine is food, economic hardships. The restrictions imposed at the end of June to contain a third deadly wave of Covid-19 have choked off the small jobs and livelihoods of the poorest.
It is a chaos of "criminals and opportunistic individuals" at work, in the words of a police spokesman, targeting shopping malls and stores. They take away giant televisions, food, mattresses, refrigerators, anything in sight, step over a brand new children's bike or carry a bathtub balanced on their heads, according to journalists at several sites.
Law enforcement, grossly outnumbered, chased the looters, firing rubber bullets to disperse them. They arrested 489 people, said the president in the evening. Cyril Ramaphosa stressed the unprecedented nature of the violence, saying that if the "frustrations and anger" expressed have "political roots", "no cause can justify them".
He promised to restore "calm and stability". Police are investigating the identity and circumstances of the death of 10 people, six in the Johannesburg area and four in Zulu country, the head of state said in the evening.
On Monday, a virtual hearing of the Constitutional Court, which convicted Zuma of contempt at the end of June, debated his sentence for ten hours. It reserved judgment without setting a date.
The former president, 79, was found guilty of having made many false pretenses not to appear before the Commission investigating State corruption under his presidency (2009-2018).