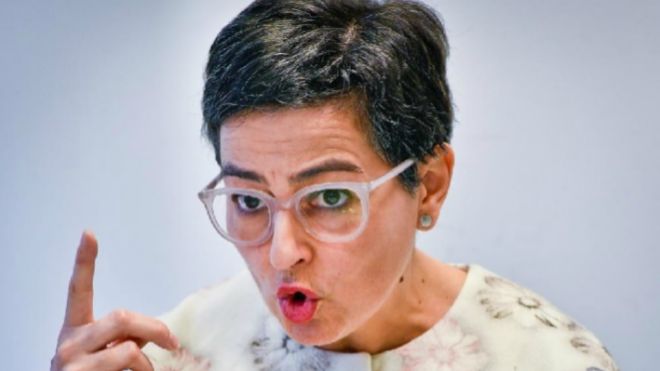 The now former Spanish Minister of Foreign Affairs, Arancha Gonzalez Laya, ejected Saturday from the reshuffled government of Pedro Sanchez that left key portfolios intact, paid dearly for her irresponsible attitude.
Laya was rebuked for triggering and mismanaging a crisis with Morocco after she was found guilty of connivance with Algeria to admit in secrecy a Polisario separatist leader, Spanish political analysts commented.
Gonzalez Laya and the Spanish government have opted for opacity and acted behind Morocco's back, favoring the illegal entry into Spain of a war criminal, said political analyst Miguel Angel Puyol, adding that the former minister has not properly measured the consequences of her hostile act towards Morocco.
The departure of Gonzalez Laya is a direct consequence of her risky decisions and her mismanagement of the crisis with Morocco, a country that amply honors its commitments in terms of cooperation and neighborliness with Spain, noted Puyol in a statement to MAP after the announcement of the government reshuffle in Spain where Laya was replaced by Spain's ambassador to France Jose Manuel Albares.
The hosting of the criminal Brahim Ghali confirms a serious diplomatic error on the part of the Spanish government that has lost the confidence of a strategic and loyal partner like Morocco, said Puyol, noting that the information published by various bodies have given reason to Morocco.
In the same vein, Rafael Esparza Machin, academician and former leader of the Spanish Socialist Workers' Party in the Canary Islands, pointed to the amateurism of Gonzalez Laya in managing relations with Morocco.
"Without a doubt, the crisis caused by the former Minister of Foreign Affairs with Morocco and her lamentable management of this case are the main cause of her forced exit from the government," said Esparza in a similar statement.
Gonzalez Laya made an unforgivable mistake last April when she allowed the illegal entry into Spain of Brahim Ghali under a false identity in order to escape Spanish justice. This mistake has been confirmed by reports from the army and the relevant departments.
"The attitude of Gonzalez Laya, apparently victim of an Algerian maneuver, is an act of treason whose consequences are fatal on bilateral relations," he said.