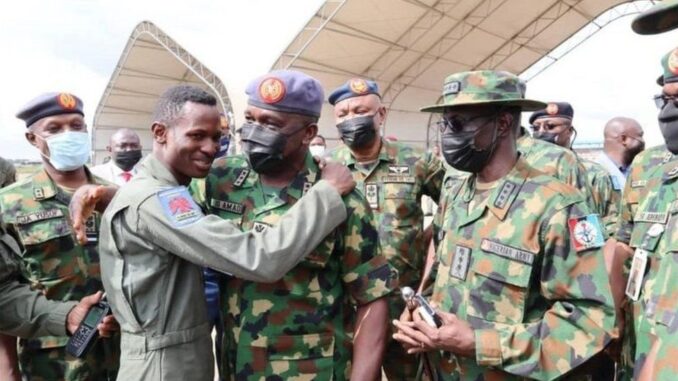 For the first time since the phenomenon emerged in 2011, "heavily armed" bandits shot down a Nigerian army fighter jet on Sunday July 18. The incident took place in northwest Nigeria, a new hotbed of insecurity in the region.
"This incident shows that conflict, banditry and terrorism have taken a new dimension," said Shehu Sani, a former senator, after the attack on a fighter jet by what Nigerians call bandits.
"The bandits have managed to amass weapons capable of destroying important targets," said the former legislator from Kaduna State, one of the five states plagued by banditry. "Some of them even parade their anti-aircraft missiles proudly," he said.
Heavily armed, these men – mostly traffickers, kidnappers and cattle rustlers – rained "intense" fire on the military aircraft on Sunday in Zamfara State. The pilot escaped the attack. While the models of weapons used are not known, they are believed to have come from Libya.
"These groups took advantage of the proliferation of weapons during the conflict in Libya," said Ikemesit Effiong, research director of the geopolitical intelligence firm SBM in Lagos.
According to the expert, the arsenal would be transported by the same route as migrants and goods. It would transit through the Sahara, passing through Mali, Burkina Faso and Niger.
This is the first time that "bandits" have attacked the Nigerian air force and the first time that the authorities have admitted it.
For the past decade, bandits have been rife in the region, mainly in the states of Katsina – the city of President Muhammadu Buhari -, Kaduna, Zamfara, Kebbi and Sokoto.
Furthermore, Nigerian authorities have secured the release of 100 people, including women, children and nursing mothers, who were abducted from their village in northwestern Nigeria more than a month ago, a local police spokesman said on July 21.
At least 2,000 people have been kidnapped since January 2021, according to Effiong-led analysis firm SBM Intelligence, and the amount of ransom paid is said to be 18.43 million Naira, the local currency.