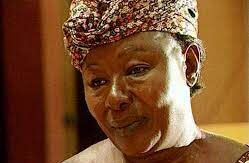 One of the first professional film actresses in Africa, the Nigerian Zalika Souley, died on July 27, 2021 at the age of 74 years. She marked the film scene where she was revealed in 1966 in the film "The return of an adventurer" of the late Moustapha Allassane who is also among the pioneers of the 7th Art on the continent.
Affectionately called "Tanti" by some, "Mamie" by others, Zalika Souley was highly regarded in the world of cinema whose actors appreciate her career. Carried by passion, she began her career as an actress at a time when certain social burdens and prejudices were major obstacles to the affirmation of women in fields such as cinema and the arts in general.
But at the time, the young woman held on, revealing herself as an actress of reference. Zalika Souley played in several films including "The Return of an Adventurer" by Moustapha Allassane in 1966″; "Cabascabo, 1968", by Oumarou Ganda; "The Polygamous Wazzou, 1970" by Oumarou Ganda who was the 1st winner of the "Golden Stallion of Yennenga" in the history of FESPACO in 1972; "If the Horsemen…, 1981″ by Mamane Bakabé; " Aube Noire, 1983″ by Djingarey Maiga; " Mamy Wata, 1990 " by Moustapha Diop.