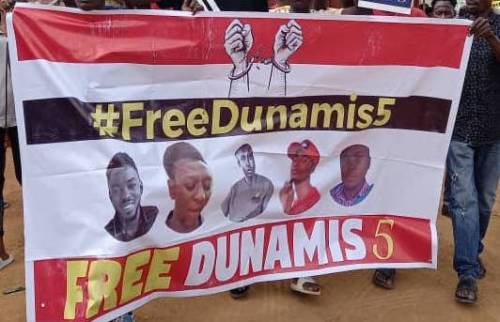 Police released five Nigerians arrested in early July in Abuja for wearing clothing calling for President Muhammadu Buhari's departure, a week after a court ruled that they be released, their lawyer said.
The five men, who were wearing T-shirts reading "Buhari must go", were arrested during a service at an evangelical church on Sunday July 4. They have since been detained by the Department of State Security (DSS), whose agents were responsible for their arrest.
On Wednesday 28 July, a court in Abuja before which the five Nigerians had appeared for "disturbing the peace" had ordered their "release on bail", according to a statement by their lawyer Tope Temokun.
But it was only "on August 3 that the DSS bowed to the protests of the Nigerian people and released the five", the lawyer continued.
On June 12, Nigerian activists called for demonstrations to protest against bad governance, insecurity and the recent suspension of the social network Twitter by the government of President Muhammadu Buhari. These marches, which were dispersed with tear gas in Lagos and Abuja, were called "Buhari must go". The Nigerian government is regularly singled out by human rights organizations.