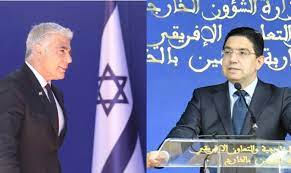 The Liaison Office of Israel was inaugurated Thursday in Rabat by Israeli Foreign Minister Yair Lapid, who paid a visit to Morocco this August 11-12.
The opening of the Israeli representation in Morocco is part of the Morocco-U.S.-Israel tripartite agreement, signed last December.
Lapid held talks, Wednesday in Rabat, with his Moroccan peer Nasser Bourita, which focused on several bilateral and regional issues of common interest.
The two officials signed, on this occasion, three framework agreements that covered political consultation between the two ministries; cooperation in culture, youth, and sports; and air service between the countries.
Yair Lapid said the new cooperation agreements will bring innovation and mutually beneficial opportunities for both countries and for generations to come.
"Today we are not just good politicians, but good parents. Today we are working for a safer world for our children. We are teaching them the power of hope," Lapid said at the signing ceremony.
Expressing his gratitude to King Mohammed VI, whose "vision and courage have enabled us to meet here today", the Israeli official stressed the imperative of cultivating hope to transcend the hatred inherited from the past.
After the inauguration of the Liaison Office, the foreign minister was due to spend time in Casablanca with the local Jewish community and pray at the Beth-El Synagogue there before returning back home Thursday night.
US Secretary of State Antony Blinken has welcomed the visit by the Israeli Foreign Minister in Morocco as the two countries built on the normalization agreement signed last year under a US-brokered deal.
Blinken in a statement called the visit, along with the reopening of the Israeli liaison office in Rabat, "significant for Israel, Morocco, and the broader region."
"The United States will continue to work with Israel and Morocco to strengthen all aspects of our partnerships and create a more peaceful, secure, and prosperous future for all the people of the Middle East," Blinken said.
At his daily press briefing Wednesday, the State Department Spokesman Ned Price on his part described the visit, as "another important step in strengthening" relations between Morocco and Israel.
"We are convinced that normalized relations between Israel and its Arab neighbors create new opportunities for peace and prosperity to flourish in the region," Price said.
"The relationship between Morocco and Israel has already led to real benefits for both countries, including direct commercial flights, economic cooperation and the opening of liaison offices," added the spokesman.