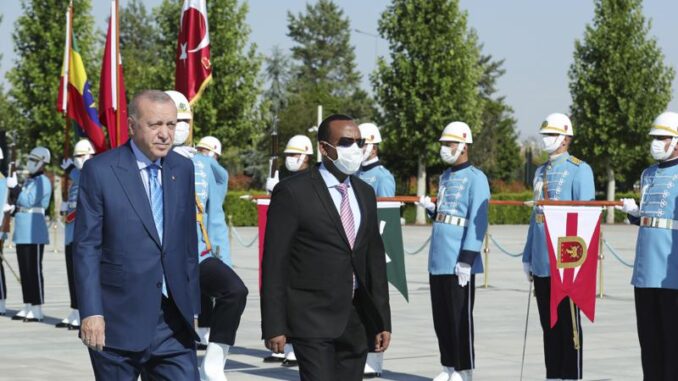 Abiy Ahmed was visiting Ankara, he met his Turkish counterpart Recep Tayyip Erdogan. A visit organized on the occasion of the 125th anniversary of diplomatic relations between the two countries.
On the agenda of the meeting were military relations around the conflict in Tigray, but also the renaissance dam, economic relations with Turkish investments in Ethiopia, and political issues with the case of the Gulenist schools.
On this last point, the Ethiopian Prime Minister spoiled his host. The schools in Ethiopia, known as Gülenist schools, named after the opponent of the Turkish regime Fethullah Gülen, have been transferred to the Maarif Foundation. This foundation, whose headquarters are in Dakar, is one of the main soft power tools of the Turkish government in Africa. The Turkish president announced investments of up to 2.5 billion euros on Ethiopian soil, as well as bilateral agreements in various fields: energy, media, agriculture and also defence. The commander of the Ethiopian army had preceded his Prime Minister to Ankara by a week.
The Turkish president said he was "ready to make any kind of contribution to the resolution of the problem, including mediation," adding that a "deterioration of the situation would affect all the countries in the region" regarding the issue of the Renaissance Dam.