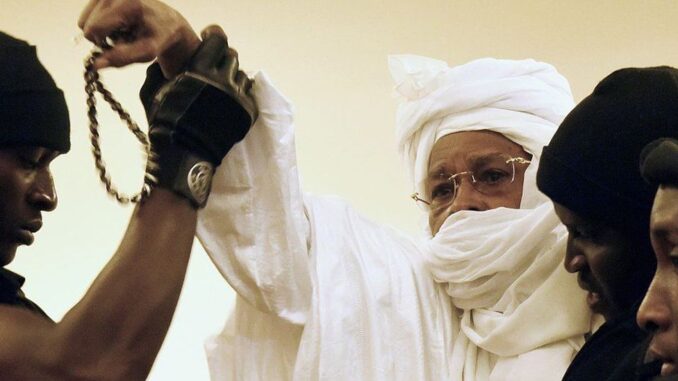 The former Chadian dictator died on Tuesday 24 April in Dakar. He was hospitalized following a contamination with Covid-19. He was serving a life sentence for war crimes and crimes against humanity. From Chadian citizens who knew his regime to his former lieutenants, the death of Hissène Habré does not leave anyone indifferent.
Reactions are gradually beginning to be heard. The current Chadian leader, Mahamat Idriss Déby, son of Idriss Déby Itno, offered his "sincere condolences to his family and the Chadian people. "To God we belong and to Him we return," he said on Twitter.
Abdoul Mbaye, president of the Alliance for Citizenship and Labor and former Senegalese prime minister, lamented the loss of "the only living African warlord who liberated his country from a foreign invasion. Adji Mergane, vice-president of the parliamentary group of the Benno Bokk Yaakar majority, paid tribute to the wife of Hissène Habré, praising the courage of this woman who always defended her husband until his death.
Concerning the Senegalese authorities, the president offered his condolences to the family and "did everything in his power to ensure that Hissène Habré was treated with dignity and that his rank as a former head of state was taken into account," concluded the Minister of Justice.
Now comes the question of whether or not to repatriate the remains of the former head of state. In Ndjamena, Abderaman Koulamallah, Chadian government spokesman, said: "There is no obstacle to Mr. Hissène Habré coming to be buried with his family.
In any case, the Chadian authorities will not object. There will be no official tributes since he was convicted of very serious crimes against Chadians. But his body will be repatriated to Chad if his family wishes. Hissène Habré's family has not yet commented.