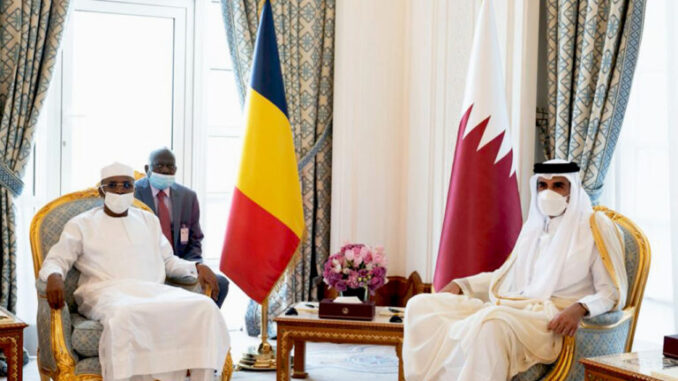 The head of Chad's ruling military junta, Mahamat Idriss Déby Itno, is in Qatar to ensure his support for Chad's political transition process, N'Djamena said Monday.
The 37-year-old general, who took over the reins of this Central African country on April 20 following the announcement of Idriss Déby's death in fighting against rebels, has been in Doha since Sunday evening for a 48-hour visit.
For him, "Chad has come a long way and (…) the country must rely on its friends including the State of Qatar, hence this trip to Doha," reads a statement from the Chadian presidency.
Mahamat Déby proclaimed himself President of the Republic on April 20 at the head of a Military Transitional Council (MTC) composed of 14 other generals, which immediately dissolved the government and parliament and abrogated the constitution, while promising an 18-month "transition" that could be renewed once before "free and transparent" elections. Mahamat Déby met Emir Tamim ben Hamad Al-Thani for a one-on-one meeting. The two men "firmly resolved to give a new dimension" to their cooperation and Doha "reassured" N'Djamena that "Qatar is willing to accompany Chad in many areas", the Presidency concluded.
General Déby has recently made numerous gestures of openness to Chadian rebel groups, inviting them to a national dialogue. However, one of the main leaders of the rebellion, Timan Erdimi, cousin of Mahamat Déby, is living in Doha under house arrest. Rumors of a possible meeting have been circulating in the press and on social networks in Chad.