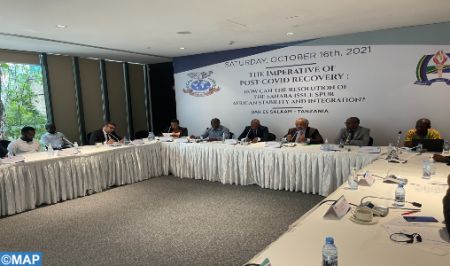 The Sahara regional dispute is a "major obstacle" to the economic integration of Africa and an obstacle to peace and stability on the continent, said on Saturday in Dar-Es-Salaam participants in a regional seminar held in the Tanzanian capital.
The participants stressed in this connection the urgency to find a realistic and final solution to this artificial dispute, based on the Moroccan autonomy initiative, in order to accelerate the integration process in the current context characterized by the economic and social repercussions of the COVID-19 pandemic.
Separatist groups pose an "alarming threat" to the implementation of the African Continental Free Trade Area (AfCFTA), noted the participants at the event co-organized by the Institute of Peace and Conflict Studies (IPCS) and the Tanzania Peace Foundation (TPF).
During the debates, emphasis was placed on the imperative to expel the ghostly Sahrawi Republic from the AU and all its organs to enable the pan-African organization to play a constructive role, to achieve the objectives of Agenda 2063 and to contribute positively to the UN efforts, for a final settlement of the Sahara dispute.
Speakers also highlighted Morocco's new development model of the southern provinces, launched by King Mohammed VI, with a particular focus on its various large-scale projects affecting key sectors, such as infrastructure, renewable energy, logistics and higher education.
These projects, they stressed, position the region as a bridge between sub-Saharan Africa and Europe but also as an engine of social and economic development for local populations as well as for the African continent.
Addressing the positive dynamics of the opening of consulates in Dakhla and Laayoune, the speakers considered that this momentum reflects a consolidation of the recognition of the sovereignty of Morocco over its Sahara.
They said that the opening of African diplomatic representations in the Moroccan Sahara illustrates the growing alignment of the continent on the Moroccan position and the ambition of African countries to put an end to the divisions that retard the development of the Continent.
This one-day event brought together a number of African Members of Parliament, former Ministers of Foreign Affairs and ambassadors, business leaders, experts and academics as well as civil society activists and think tank representatives from Tanzania and other African countries.