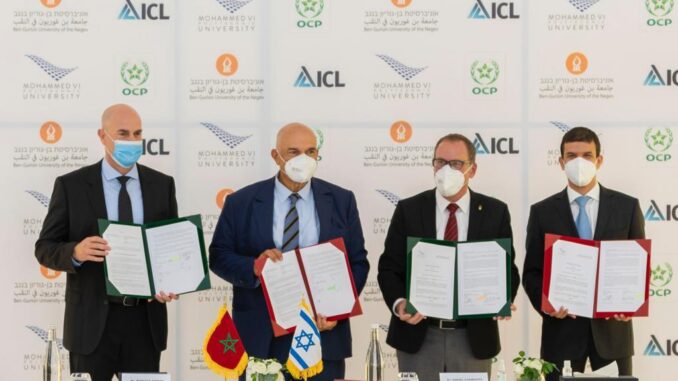 Morocco's state-owned OCP Group and Israeli ICL Group have pledged to offer scholarships to promote academic research through the funding of sustainability programs at Mohammed VI Polytechnic University (UM6P) and Ben-Gurion University of the Negev (BGU).
The two groups inked on Wednesday an agreement aimed at enhancing scientific cooperation between UM6P and BGU in numerous fields including food security, ecological restoration, smart agriculture, water, climate change, remote sensing, renewable energies, entrepreneurship, venture capital and hospitality industry.
This partnership will enable scientific and technical experts from the two institutions to consult and collaborate on sustainability initiatives, and organize joint lectures, seminars, workshops and symposia.
To support this scientific academic project, OCP Group will provide initial funding of $300,000 to UM6P, and ICL Group will provide a similar amount to BGU.
Speaking during signing ceremony, Mostafa Terrab, Chairman and CEO of OCP Group said: "We are convinced that the best way to support sustainability, and to move from research to impact, is to sponsor world-class research collaboration at institutions such as the Mohammed VI Polytechnic University and Ben Gurion University".
"Investing in this research with strategic partners such as the ICL Group is key to ensuring that the concrete, science-based solutions that emerge from this research program will go to scale, and help feed the world, sustainably", he stressed.
For his part, Raviv Zoller, president and CEO of ICL, said: "ICL is thrilled to be taking this historic step forward with OCP to advance sustainability research and support our local universities in their efforts to make a difference in their communities and beyond".
"Joining forces to share decades of experience and knowledge is key to developing innovative research and development solutions to address the world's sustainability challenges", he added.
Daniel Chamovitz, President of Ben-Gurion University of the Negev said, "BGU and UM6P have much in common. From their desert settings to their focus on applied research and innovative teaching methods, the two universities are well suited to collaborate on projects in sustainability and climate change".
Hicham El Habti, President of UM6P said: "We are very confident that our partnership with Ben-Gurion University, one of Israel's leading research universities and among the world leaders in sustainability and many other fields of great interest to UM6P, will make major, actionable contributions to our research agenda".